Here's everything you need to know about the world of television for Thursday, April 22nd, 2021. I'm writing this from the Twin Cities suburbs, where AllYourScreens HQ is powered by root beer with a sidecar of strong coffee.

ADVENTURES IN STREAMING UI
World Screen has a good interview with Kelly Day, the president of streaming and COO at ViacomCBS Networks International. And while I don't know that there are any huge insights in the Q&A, it's good to hear her perspective on the company's international streaming plans:

WS: What role will ViacomCBS International Studios play as Paramount+ deepens its presence in markets with locally resonant content?

DAY: We believe that local and original content are key to the selling proposition of Paramount+. Consumers love the big Showtime series, the big Paramount+ series and the Paramount pay-one movies. That is the core of our offering—it's critical to the consumer value proposition. Those types of shows are recognized worldwide. What differentiates us and is a big driver of customer acquisition is local content. People want to see the faces, voices and stories that reflect their local culture and story­telling. We've been working with phenomenal producers, writers, directors and on-screen talent to try to put together a very strong slate of local originals. We're super excited about the originals we announced at investor day, especially the new series from Juan José Campanella [Los Enviados]. But that's just the beginning. We want to keep investing in other local markets as well. We announced Last King of the Cross in Australia, and we are going to greenlight some additional shows there, as well as one or two that we've greenlit in the Nordics, including Ib the Dog. We view that not only as a driver of local subscribers, but we also see that content traveling globally. So when we're greenlighting a show, for example, in Latin America, yes, it's going to be a big tentpole promotable in the region and it's going to drive subscriber acquisition, but we also assume that it's going to be able to travel everywhere. We look at scripts and stories that we think are going to be able to travel. If you look at the investments that all the big streamers are making in local content, it's with the idea that local content appeals to global audiences now. People like seeing stories from all over. We think it's an important part of the offering.

As I said, the interview is definitely worth reading, even if they didn't ask about what impact the ViacomCBS role as "content arms dealer" has on the goal of building a thriving, competitive streaming business.

COMPARING NETFLIX TO THE MUSIC BUSINESS
You've no doubt read a lot in the past few days about Netflix's most recent earnings report. But MusicBusinessWorldwide.com had a very different take on the story, as they compared Netflix's results to what is happening in the music industry. Both Netflix and the music industry suffered through a pandemic-influenced lack of enough new content. But they handled it very different ways:

Based on RIAA and MRC data, MBW estimates that the monthly subscriber ARPU of music streaming subscribers in the United States last year was $7.74 – a decline of 8.3% year-on-year. That $7.74 figure is not far off half what the average US Netflix subscriber is currently paying for the service.
Unlike Netflix, of course, Spotify is still charging the same $9.99 monthly US subscription fee it launched with in 2011 – a figure that, on an average per-subscriber basis, continues to be brought down on average by Family bundles, telco bundles, and price promotions.
This is a tale of two industries, then. Both are currently dealing with a Covid-driven "dearth of hits".
But only one of them is carefully refusing to let its average subscriber pay less than they used to.

ODDS AND SODS
* Netflix is teaming up with NASCAR driver Bubba Wallace on a documentary series that takes viewers behind the scenes of the 2021 NASCAR season through the eyes of the only Black driver at the top level of the sport.

* A new billboard has been put up by fans in Los Angeles, and asks Marvel Studios to bring the Iron Man, Tony Stark, back to life: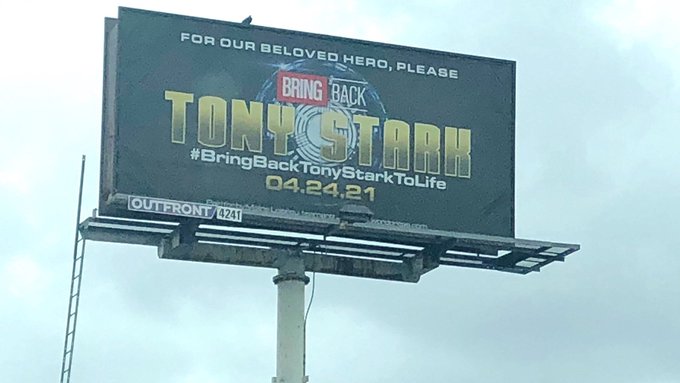 * The Athletic's Bill Shea takes a look at Saturday night's Jake Paul fight (subscription required). It got an estimate 1.5 million PPV buys, which is $75 million revenue stream. It was a spectacle with musical performances, Pete Davidson talking shit, and Steve Urkle peddling weed. And is this the future of boxing?

* Want a rundown of all the new original content premiering on Netflix in May? Check out this handy video I posted late yesterday. I have similar ones for Disney+ and Hulu coming in the next day. I can't enough info (especially photos) from Discovery+ to do one for them. And Amazon just doesn't provide me enough timely info in general to make it work right now.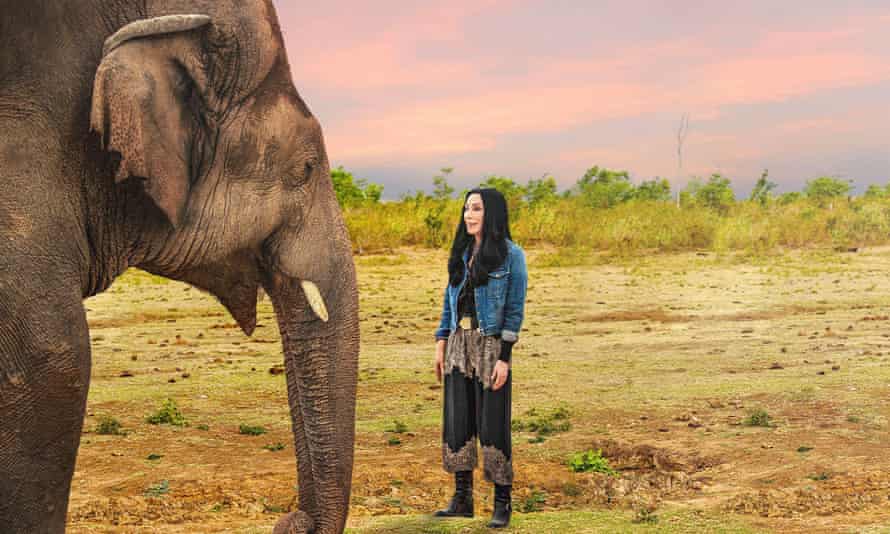 TODAY'S PREMIERES
1) Action Planet Climate Challenge (Discovery+)
Explore the action and policies that can now confront climate change.

2) Archibald's Next Big Thing Is Here Season Premiere (Peacock)
This animated series stars Archibald Strutter, a chicken who "yes-and's" his way through life. While his adventures don't always go as planned, Archibald takes it one step at a time with the help of his three siblings, Sage, Finly, and Loy, and his trusty sidekick, Bea.

3) Big Trick Energy Series Premiere (TruTV)
The series follows four master magicians and best friends of over 10 years, Chris Ramsay, Eric Leclerc, Wes Barker and Alex Boyer. These mischievous daredevils venture into the real world to both shock and awe unsuspecting spectators – and each other – with their unique brand of extreme, provocative, mind-blowing magic. Fueled by their camaraderie and spontaneous antics, their radical, unconventional and even dangerous magic defies expectations and completely astonishes their subjects.

4) Bigger Season Premiere (BET)
On the road to a boring but stable marriage, struggling business owner Layne seeks out bigger and better opportunities. Can she really have it all?

5) Boys From County Hell (Shudder)
Welcome to Six Mile Hill, a sleepy Irish backwater whose only claim to fame is the somewhat dubious local legend that Bram Stoker once spent a night in the local pub. It's home to Eugene Moffat, a young man who fills most of his days drinking pints with his friends and pranking tourists who come to visit the gravesite of Abhartach, a legendary Irish vampire some believe to have inspired 'Dracula.' When a personal tragedy forces Eugene to go and work for his gruff, no-nonsense father, he finds himself on the site of a controversial new road development that threatens to destroy the town's livelihood. But strange events unfold when Eugene and the crew tear down a famous cairn believed to be the final resting place of Abhartach, and they soon come under attack from a sinister force that has infected one of their workmates. As the night closes in, The Boys must fight for survival while discovering the true horror of a myth that hits much closer to home than any of them realize.

6) Cher & The Loneliest Elephant (Paramount+)
In a new documentary, the singer and actor proves an unlikely saviour of an elephant in need of a new home.

7) Create Together (YouTube)
Season 2 will be an ode to the beauty in our own backyards, and beyond! Joseph Gordon-Levitt again is inviting people from all over the world to come together and create art, music, mini-docs, short films and more. Everything created for the show - from music, to art pieces, to short films, documentaries, and more - will be created collaboratively by the audience, and draw inspiration from the natural world in all its forms - just in time for Earth Day.

8) Endangered (Discovery+)
A global network of scientists risk their lives to save endangered animals.

9) Greta Thunberg: A Year To Change The World (PBS/Hulu)
Greta Thunberg is on a mission to save the world. She is asking every one of us to act and to mobilize in order to slow down the growing climate change that is destroying our planet and threatens our way of life. Over the course of this three-episode series, Greta explores the science as she travels to extraordinary locations across the globe, meeting leading climate scientists, witnessing first-hand the consequences of climate change and confronting the complexity of what is required to make change happen.

10) Life In Color With David Attenborough Series Premiere (Netflix)
Premiering this Earth Day, in a stunning new three-part series, David Attenborough travels the world from the rainforests of Costa Rica to the snowy Scottish Highlands to reveal the extraordinary and never-before-seen ways animals use color. Using revolutionary camera technology created specifically for this series, viewers will experience how colors invisible to the human eye play a vital role in animal interactions. From the seemingly magical ultraviolet signals on a butterfly's wings to the surprising yet crucial purpose behind a Bengal tiger's stripes, a hidden world of color is waiting to be discovered. 

11) Rutherford Falls Series Premiere (Peacock)
It's a comedy about two lifelong best friends, Nathan Rutherford (Ed Helms) and Reagan Wells (Jana Schmieding), who find themselves at a crossroads – quite literally – when their sleepy town gets an unexpected wakeup call.

12) Secrets Of The Whales (NatGeo)
This four-episode series plunges viewers deep within the epicenter of whale culture to experience the extraordinary communication skills and intricate social structures of five different whale species: orcas, humpbacks, belugas, narwhals and sperm whales. Filmed over three years in 24 locations, throughout this epic journey, we learn that whales are far more complex and more like us than ever imagined.

13) Serengeti Series Premiere (Discovery)
Lupita Nyong'o narrates a journey into the Serengeti's animal experience.

14) Stowaway (Netflix)
On a mission headed to Mars, an unintended stowaway accidentally causes severe damage to the spaceship's life support systems. Facing dwindling resources and a potentially fatal outcome, the crew is forced to make an impossible decision.

15) Thin Ice (Sundance Now)
A Swedish suspense thriller dramatizing the burning issues of climate change, Arctic exploration and international geo-politics.

If you'd like to get this daily feature as an email, subscribe to our free daily "Too Much TV" newsletter here.

I'll be back with another one tomorrow. If you have any feedback, send it along to This email address is being protected from spambots. You need JavaScript enabled to view it. and follow me on Twitter @aysrick.