Here's everything you need to know about the world of television for Monday, April 19th, 2021. I'm writing this from the Twin Cities suburbs, where AllYourScreens HQ is powered by caramel flavored coffee and homemade chicken salad.

AND IN THE CATEGORY OF 'LITERALLY NO ONE IS ASKING FOR THIS'
BBC News is reporting that several companies - including UK advertising business Mirriad - are experimenting with technology that allows advertisers to digitally insert billboards, sign and other items into classic movies and television shows. And while I can see that happening at some point, there would be a number of contractual problems to figure out. But using this product placement software in places like live sporting events and in music videos seems like a much more likely scenario:

James Sandom is the managing director of UK-based Red Light Management, which represents musicians and bands including Kaiser Chiefs and Franz Ferdinand.

He believes that many musicians will leap at the chance to add digital product placement to their music videos both new and old. "The opportunity to carve open a new revenue stream is rare, and the ability to retrospectively use existing content and build new content with it in mind is exciting," he says.

So older musical groups could make new money from videos that might be decades old. And current artists who proudly sport the latest trainers, phones or bags, could have them changed a year later to the newest designs, without them having to actually put them on, or re-record a video.

Colombian singer Giovanny Ayala is one of the first artists to use Mirriad's technology, which has enabled him to sign a deal with Mexican brewer Tecate, to have its bottles and logo appear in his music videos.

THE BIGGEST STREAMING WINNER SINCE THE LAUNCH OF DISNEY+
There are a lot of metrics for success in the streaming video world and while stock price might not always be the most logical expression of success, it is obviously an important trend for investors. So it's interesting to see this piece from CNBC, which argues that the big winner in the streaming wars since the launch of Disney+ has been Netflix:

A plurality of Americans believe Netflix has the best original content among streaming services, according to a recent Morgan Stanley survey. Thirty-eight percent of survey respondents chose it as No. 1 among streamers -- far surpassing No. 2 Amazon Prime Video at 12%.
While the streaming wars give consumers more alternatives to Netflix, they also cement Reed Hastings' company as an anchor product in many U.S. households. If streaming video is now -- or soon will be -- the centerpiece of home entertainment, supplanting cable TV, Netflix will almost certainly be a part of a typical household's content diet.





THE HIGH COSTS OF APPEARING ON 'RUPAUL'S DRAG RACE'
While I have watched some episodes of RuPauls Drag Race, I will admit that I am not especially familiar with the series. Which is why I found this piece in Vice so interesting. Because as it turns out, contestants have to provide the increasingly elaborate costumes they use in challenges. And as the popularity of the show has increased, that means it can cost the contestants tens of thousands of dollars:

Even in earlier seasons of Drag Race, when contestants were competing for an amount of money that was unprecedented in the drag world, the runways had nowhere near the scale that they do in more recent seasons. "When Drag Race first started, they were literally coming in off the street to do this TV show," Fitzgerald said. "And now it's 13 years later, it's won all of these Emmys, it's HD, it's got superstar guest stars. The stakes are just higher."

Fitzgerald, Marquez, and many others all agree that drag becoming mainstream is overwhelmingly a good thing. "But it also is very dangerous, because that means it can become all about capitalism, right?" Season 11 winner Yvie Oddly told VICE. "It can be all about who has the connections, who is spending the most money." (VH1 declined to answer questions for this article.) 

THE UNBEARABLE LIGHTNESS OF DATA POINTS
Even in the best of circumstances, it's difficult to get solid metrics from anyone in the streaming industry. In some ways, the major companies have combined the hype of traditional Hollywood with the lack of transparency that is the trademark of the tech industry. And because analysts, reporters and other interested parties abhor a vacuum, a number of companies have begun to offer data points focused on some under-reported slice of the industry. Which is good, except when it's not clear where the data is coming from and/or how it was compiled.

Which brings me to this recent study released by Kantar, a firm that describes itself as "a data and evidence-based agency providing insights and actionable recommendations to clients, worldwide." They might provide data, but not much methodology, since their research offers up a lot of data  point without providing the slightest bit of information about how the data was compiled. How many people participated in the study? What are the demographics? Does the data cover all viewing platforms or is it limited to smart/connected TVs or mobile viewing? The company manages to produce this snappy graphic, but given we have no idea how the data was compiled, it's essentially useless.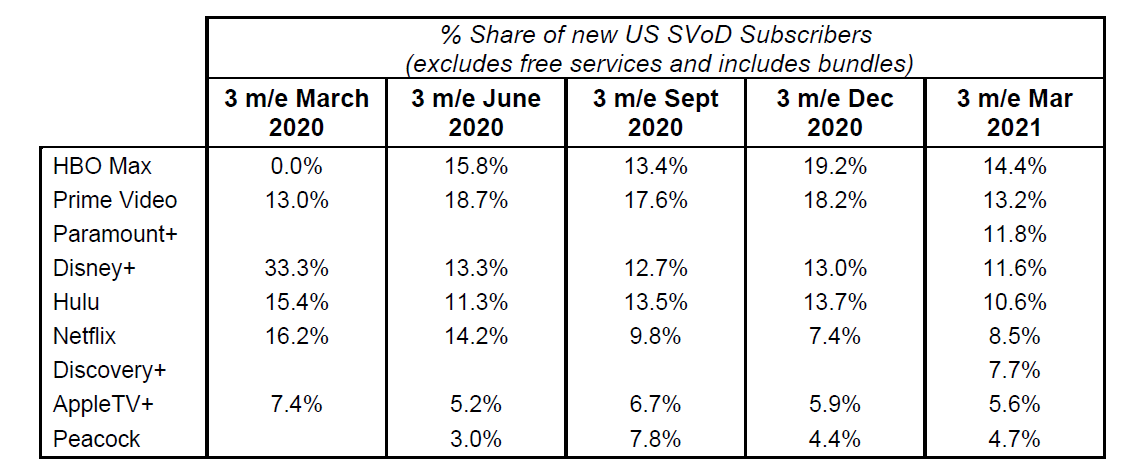 If you'd like to get this daily feature as an email, subscribe to our free daily "Too Much TV" newsletter here.

I'll be back with another one tomorrow. If you have any feedback, send it along to This email address is being protected from spambots. You need JavaScript enabled to view it. and follow me on Twitter @aysrick.