Here's everything you need to know about the world of television for Thursday, January 7th, 2021. I'm writing this from the Twin Cities suburbs, where AllYourScreens HQ is powered by several 7.5 ounce cans of Root Beer.

My apologies for the lack of a newsletter yesterday. It was a problematic day and like a lot of people, the news of the day was jarring enough to knock me off of my game. Watching the events unfold in the nation's capitol, I found it difficult to focus on television.

IS A VIRTUAL CES STILL THE CES?
The Consumer Electronics Show is going to be entirely virtual next week and I think it's fair to say however the event shakes out, it is going to be a diminished experience for everyone. The CES has always been as much about about glitz as content, with splashy celebrity-filled presentations one of the highlights of the week. The other highlight for longtime participants - whether they be industry execs or the the press - are the multiple opportunities for networking and meeting people face-to-face over a drink or at a party. For all of its flaws, the CES has become a vital cog in any company's promotional plan and much of that is gone this year.

Maybe that's why so many major companies are either skipping CES entirely or making only a prefunctory appearance. Google, Amazon, HTC, Sonos and Facebook are all skipping the CES entirely. And a number of smaller companies will be doing their own thing, but releasing the news during the CES window in hopes of getting some relates attention.

There are going to be some big virtual presentations, beginning with LG's announcements beginning at 5:00 am PT on Monday. Samsung will do its thing an hour later, with Hisense, TCL, Panasonic and Philips also doing presentations throughout the week. Since it is virtual, I'll be "attending" events and I'll pass along anything of interest. 

SPEAKING OF VIRTUAL EVENTS
As I've mentioned before, one of the upsides of so many organizations doing virtual press events is that it provides a lot more opportunities for journalists like myself who are based in non-traditional places. (And having lived here for nearly 15 years, I can tell you that Minneapolis-St. Paul is non-traditional in all sorts of ways). But I'm really curious to see whether networks and outside PR firms stick with virtual press tours once the pandemic recedes later in the year. It's cheaper and more convenient for the organizers to do these events virtually. And while things like set visits can't be replicated via Zoom, a lot of the functions of publicity are much easier in a virtual world.

January is typically when the Television Critics Association (TCA) would be doing their January gathering. Twice a year, the various networks and media companies would present their priority shows in front of about 200 critics assembled in Pasadena. There are also some related parties and set visits. But it's mostly a chance to put a bunch of panels of cast and producers in front of the press. The TCA's traditional July tour was done virtually in 2020, and while it wasn't a disaster, I don't think it accomplished much for anyone. There will apparently be some sort of virtual January tour in a couple of weeks. But it does open the question about what these events will look like in a post-pandemic world? Even before the pandemic, I had argued that the format wasn't the best use of anyone's resources. It's going to be interesting to see how networks view this issue moving forward.

SPORTS VIEWERSHIP DURING A PANDEMIC
There's been a lot of discussion this year about the causes of the decline in sports viewership. The data intelligence firm Morning Consult asked Americans who said they're watching less often why, and their written responses were illuminating.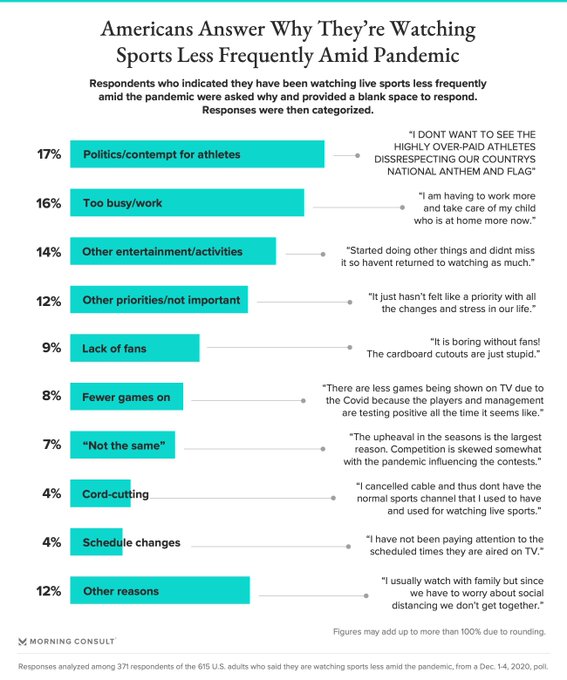 Here is a link to the complete report, which gives some guidance to what 2021 might bring for the industry.

THE CASE FOR MULTIPLE STREAMING SERVICES.
Here are a couple of interesting tweets from Devin Emery, Chief Product Officer & EVP Content Strategy of CuriosityStream:
People have asked if Discovery is now our biggest competition. Not really any more or less than anyone else - we're focused on different things (primary focus on reality TV vs. exclusive focus on factual ent.) And as I'll keep saying - plenty of room for many strong businesses.

— Devin Emery (@DevinMcCueEmery) January 5, 2021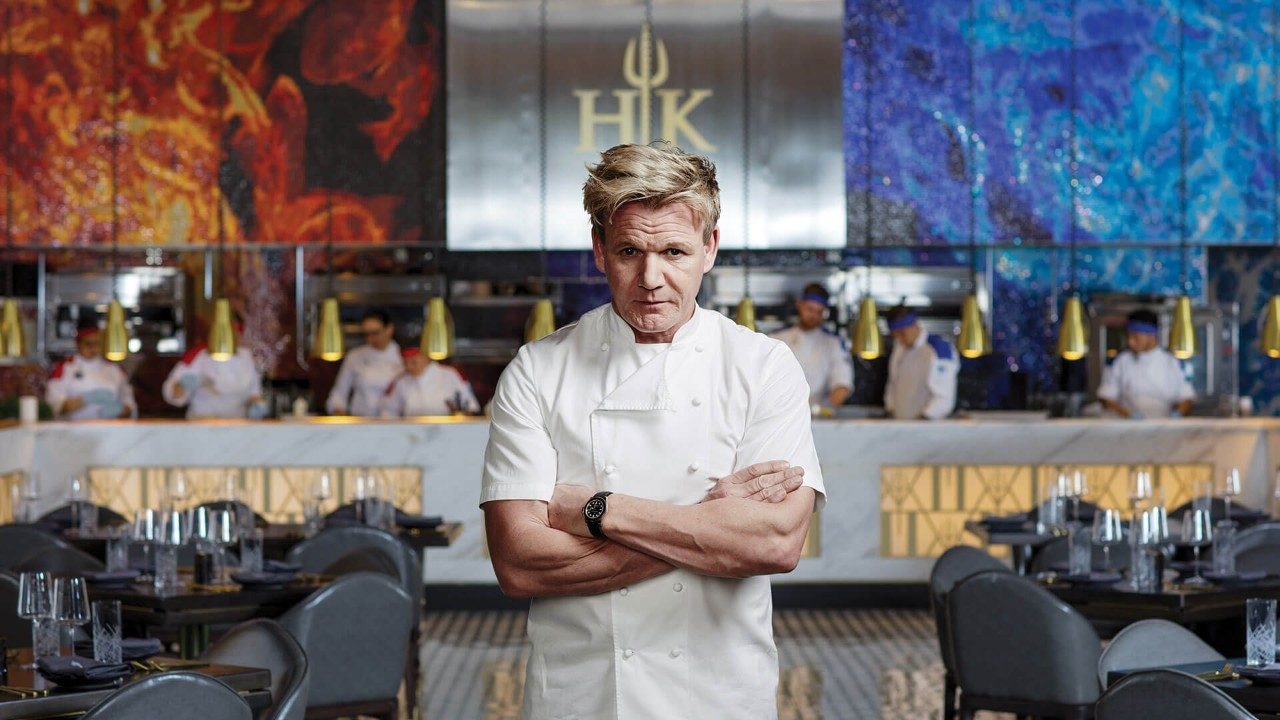 WHAT'S ON TODAY:
Here is a rundown of the new television programs premiering today:

1) Celebrity Wheel Of Fortune Series Premiere (ABC)
It's just like the traditional Wheel Of Fortune...but with CELEBRITIES!

2) Coyote Series Premiere (CBS All-Access)
This is the story of Ben Clemens (Michael Chiklis), who after 32 years as a border patrol agent is forced to work for the very people he spent his career trying to keep out of the United States. Now exposed to life on the other side of the wall, Ben will start to question his black and white views of the world, challenging his ideology and his loyalties.

3) Growing Up Hip-Hop Atlanta Season Four Premiere (WEtv)
As Atlanta emerges from quarantine, the cast struggles to navigate a new world in troubling times. Bow's scandalous album rocks Atlanta, Ayana receives a terrifying health diagnosis, and Deb drops a bomb that shocks Waka and threatens her reputation.  

4) Hell's Kitchen Season Premiere (Fox)
The culinary competition show returns for its 19th season in a flashy new setting, as Chef Gordon Ramsay takes the show to Las Vegas, the city that's home to Gordon Ramsay Hell's Kitchen restaurant at Caesars Palace. For the first time ever, 16 aspiring chefs from around the country will roll the dice and head to Sin City in the hopes of winning big

5) Law & Order SVU (NBC)
As commander of the SVU, Capt. Olivia Benson (Mariska Hargitay) is a seasoned veteran of the unit who has seen it all. She leads with empathy and professionalism, all the while dealing with her difficult past as a product of rape and her responsibility as a trailblazer in survivor advocacy, both of which influence the way she relates to the victims and perpetrators of each case. Olivia Benson is the longest-running female character in a primetime live-action television series.

6) Mr. Mayor Series Premiere (NBC)
This comedy follows a retired businessman (Ted Danson) who runs for mayor of Los Angeles to prove he's "still got it." Once he wins, he has to figure out what he stands for, gain the respect of his biggest critic (Holly Hunter) and connect with his teenage daughter, all while trying to get anything right for America's second weirdest city.
7) Pieces Of A Woman (Netflix)
A heartbreaking home birth leaves a woman grappling with the profound emotional fallout, isolated from her partner and family by a chasm of grief.

8) The Chase Series Premiere (ABC)
A heart-racing quiz show where three competitors face off against the Chaser, a ruthless quiz genius determined to stop them.

9) The Hustler Series Premiere (ABC)
This new series breaks the game show mold by featuring one player who secretly already knows the answers.

10) The Real Black Chyna Series Premiere (WEtv)
The show reveals the behind-the-scenes dynamics of Chyna's life and relationships never before showcased on screen, including – her ongoing efforts to change the direction of her sometimes controversial and always complex life; including relationship statuses with her mom Tokyo Toni, her exes, various lawsuits, business ventures, and more. 

This newsletter is called "Too Much TV" because....well, it's hard to keep track of all the new television premiering everyday. To help you prioritize your viewing, click here to see our list of more than 400 upcoming television premieres, movies and finales. You'll find listings from more than 70 networks, as well as streaming services and web shows.

If you'd like to get this daily feature as an email, subscribe to our free daily "Too Much TV" newsletter here.

I'll be back with another one tomorrow. If you have any feedback, send it along to This email address is being protected from spambots. You need JavaScript enabled to view it. and follow me on Twitter @aysrick.