Here's everything you need to know about the world of television for Thursday, December 17th, 2020. I'm writing this from the Twin Cities suburbs, where AllYourScreens HQ is powered by some sort of hot herbal tea.

THE FUTURE OF DUBBING VOICE TRACKS
One of the under-appreciated challenges of releasing TV shows and movies globally is that no matter what the original language of the program, the voice tracks need to be dubbed into a number of languages. And aside from time spent casting the right local voices and recording the tracks, the entire process is not a cheap one. A Tel Aviv-based startup has a new product in Beta that appears to be a big breakthrough, based on this YouTube demo video it recently posted.

DeepDub came out of stealth mode yesterday and it uses machine learning to automate the dubbing process. Currently it can dub into six different languages, including French, German and Spanish and the plan is to steadily expand that to around 60 languages. One of the things that makes their process interesting it that their dubbing changes the language of the audio while still retaining the vocal qualities of the original audio. In other words, audio of James Earl Jones would still sound like him, even when translated into a different language.

I talk a lot about global content, but technology such as DeepDub - combined with new software that can visually change an actor's face to match the new dialogue - will make the experience of watching content originally produced in a different language seem almost the same as locally-produced content. This feels as if we are only a couple of years from a company such as Amazon or Netflix being able to produce content anywhere in the world and easily roll out customized versions that appear to civilian eyes to be locally produced.

ROKU TORMENTS ENTERTAINMENT GIANTS IN QUEST TO DOMINATE STREAMING
The Wall Street Journal's Patience Haggin has a really informative look at Roku and how it has become an increasingly important player in the streaming entertainment industry:

Since going public in 2017, Roku's market value has expanded 30 times to more than $40 billion, surpassing those of ViacomCBS Inc. and Fox Corp. It is worth more than Discovery Inc., AMC Networks and Lions Gate Entertainment Corp. combined. Its shares are up 260% since mid-March, as at-home consumers stream more video.
"We're often underestimated by the industry," said Anthony Wood, Roku's chief executive and founder, who named the company after the Japanese word for "six" because it was the sixth company he started. Described as aloof and inscrutable by some employees, he's impatient with legacy media companies that chafe at the streaming era's changes.
Although Roku built its business selling streaming devices, these days it barely makes any profit off that hardware, and instead focuses on selling ads in the streaming apps it carries. Roku has more than 10,000 apps in its Channel Store, both free and paid. It generally gets a percentage of the ad space, based on an arrangement with the app's owner. Ads were the greatest contributor to Roku's $1.1 billion in revenue last year. Roku also generally gets a percentage of subscription revenue from partners.

The reporting on this piece is extremely detailed and it has information on a number of Roku deals that I hadn't seen anywhere else:

Last year, Roku showed up to negotiations with A+E Inc., which owns channels like Lifetime and A&E, asking for the right to put the programmer's library on The Roku Channel and take 50% of ad revenue from those shows, said a person familiar with the talks. A+E resisted and provided a smaller amount of ad revenue. It still had to give Roku rights to some 600 episodes of some of its top shows, including "Dog the Bounty Hunter," "Hoarders," "First 48" and "I Survived," the person said.

IN A RELATED TWEET

roku feels like the streaming device named by Scooby Doo. carry on

— Brock F Powell (@brockvox) December 17, 2020


ODDS AND SODS
Peacock is adding a number of comedy specials from Kevin Hart's LOL! Network.

HBO Max is running ads on social media offering discounts of 10-25% off of a six-month prepaid subscription.

RECOMENDED READING
Disney+ To Reach $4 Billion In US Subscription Revenue By 2022 (DigitalTVEurope)
Disney's expansion will also contribute to wider OTT growth in the US, with total revenues for the sector expected to increase by 29.9% in 2021 to $38.15 billion. 2022 will see reduced growth of 19.4% as the sector reaches maturity.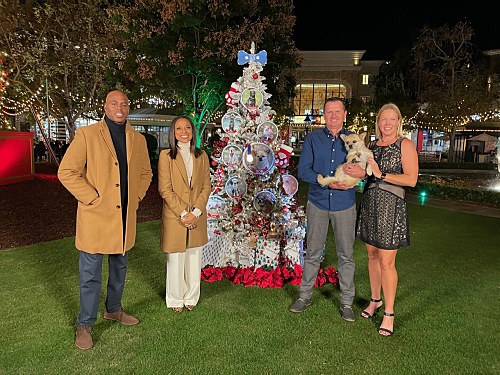 WHAT'S ON TODAY:
Here is a rundown of the new television programs premiering today:
1) Beyond The Pole: Living Under Lockdown (WEtv)
From virtual strip clubs to OnlyFans, the queens of hustle and grind are back for a unique behind the scenes look at their journey to financial freedom. When Atlanta shuts down its famous nightlife scene due to a global pandemic, the clubs' exotic dancers, bartenders, and bottle girls struggle to find income streams. Ms. Dime, Angel Kake, Empress, and Lyric self-document their fight for survival.

2) Dogs Of The Year (The CW)
Hosts Kevin Frazier and Nischelle Turner count down the Top 10 dog stories of 2020, celebrating the dogs that go above and beyond, that leave their mark on society, and achieve the nearly impossible. Some of the exceptional dogs to be featured in the special include Narwhal, the unicorn puppy who makes therapy magical; Triado, a decorated dog who protects airports and events; Hansel, the first Pitbull to become a firefighting K9; Ariel, a service dog who can detect oncoming seizures; and Plum, a dog with disabilities who is a social media superstar

3) Homeschool Musical: Class of 2020 (HBO Max)
This documentary shines a light on the personal experiences and incredible musical talent of teens across America that have been confronted with the many unique challenges of 2020. Each teen will perform a well-known song which organically expresses their emotions about their experience as high school seniors faced with their world turned upside down. Along with their musical numbers, we'll hear directly from them in interviews that showcase their unique perspective, their wide range of emotions, hurdles, laughs and resilience that they've experienced during the past year. 

3) Sesame Street: Holiday At Hooper's (HBO Max)
It's Holiday time on Sesame Street! When their parents run late from the holiday concert, Elmo and Baby Bear stay with Alan and Nina at Hooper's store. But they are disappointed not to celebrate Christmas Eve and Hanukkah as they had planned. Alan wonders how to make Hooper's feel more festive. What if they make their own holiday decorations? Elmo, Baby Bear, Nina, and Alan sing carols, eat latkes, and make lots of decorations. They create a wonderful holiday celebration all by themselves—and Elmo and Baby Bear realize that the best part of holidays is being together with friends and family.

4) The Available Wife (UMC)
Nicole Wright, a successful music CEO, realizes that her life is about to crumble in front of her. While the secrets that have built her music empire threaten to tear her down, Nicole struggles to maintain a family and motherhood.

5) The Stand (CBS All-Access)
Stephen King's apocalyptic vision of a world decimated by plague and embroiled in an elemental struggle between good and evil. The fate of mankind rests on the frail shoulders of the 108-year-old Mother Abagail and a handful of survivors. Their worst nightmares are embodied in a man with a lethal smile and unspeakable powers: Randall Flagg, the Dark Man.

This newsletter is called "Too Much TV" because....well, it's hard to keep track of all the new television premiering everyday. To help you prioritize your viewing, click here to see our list of more than 400 upcoming television premieres, movies and finales. You'll find listings from more than 70 networks, as well as streaming services and web shows.

If you'd like to get this daily feature as an email, subscribe to our free daily "Too Much TV" newsletter here.

I'll be back with another one tomorrow. If you have any feedback, send it along to This email address is being protected from spambots. You need JavaScript enabled to view it. and follow me on Twitter @aysrick.