Here's everything you need to know about the world of television for Thursday, November 5th, 2020. I'm writing this from the Twin Cities suburbs, where AllYourScreens HQ is powered by a cup of man's most evil creation: pumpkin-spice coffee.

EVERYTIME I GET READY TO HIT 'SEND'
It's been one of those days in which so much news is coming in, I've nearly sent out the newsletter several times but been interrupted by something else I wanted to add. Here are a couple of other last-minute earning notes and then I'm sending this. Probably.

* Lionsgate posted a loss in its most recent quarter, which was expected. But Starz did very well, adding record 1.8 million streaming subscribers in the U.S. during the latest quarter. That gives it a total of 9.2 million streaming customers domestically. It also added 2.3 million Starz streaming customers in international markets, including for STARZPLAY Arabia, to get to 13.7 million subscribers overall. It's worth noting that Starz also ran some very aggressive promotions in the U.S. So it will be interesting to see the retention rates on those subscribers in the next quarter.

* Roku reported some very impressive numbers for last quarter, with active accounts increasing by 43% to 46 million, according to the company, while streaming hours rose 54% to 14.8 billion. Monetized video ad impressions were up almost 90% year-over-year in Q3, up sharply vs roughly 50% year-over-year in Q2," said Scott Rosenberg, senior vice president of Roku's platform business in a statement.

AMAZON VIDEO IS WORKING ON ITS OWN 'WATCH PARTY' FEATURE
At least if this job listing is any indication. The company is looking for an Android Engineer:

Do you like watching movies and TV shows with family and friends? Are you excited about building a new engaging entertaining experience for millions of customers? Prime Video Global engagement team is building new co-viewing experiences to connect customers in a socially distant world.

You get to be on the ground floor of expanding co-viewing experiences by building critical components for features that will last for many years to come. You will have the opportunity to work on new customer facing mobile and device experiences that bring a new experience for Prime Video customers.

DISCOVERY TO ANNOUNCE ITS DTC STREAMING SERVICE IN DECEMBER
Discovery CEO David Zaslav provided a bit more information about the company's plans for a new streamer during Thursday morning's Q3 earnings call. "We're going to do an extensive discussion, with full disclosure in early December, which we're super excited about," he told investors.  We'll take you through every category—where we're going, how we're going, why we think we're advantaged, how globally we think we can attack it, who's helping us. The whole company has been focused on this, so in early December, we'll come out with the whole package."

I've spoken with a number of people at the company in recent months about the efforts on background and I don't want to get too far ahead of things, especially since a lot of things apparently aren't finalized. But what I have heard makes me pretty optimistic about their plans. Discovery has a deep pocket of content to draw content from and much of it is already familiar to audiences.

One move I would like to see them make is to roll the existing SVOD Food Network Kitchen into this new service. That streamer is producing a lot of live programming featuring the current Food Network personalities and indeed over the past couple of years has renegotiated their contracts with their talent to include a digital original component. But the service also seems to be hitting a natural ceiling on how many people are willing to pay for that type of programming. One indication of that is it recently offered a year of the service for a massively discounted price to Amazon users who have an Amazon device.

An already existing Food Network stream that has an existing connection with Discovery's audience would be a win for any new streamer. And given that Discovery wants its new consumer streamer to be global and these Food Network personalities are global...well, that is what you call synergy.

I will also be interested to see how much Discovery leans into its global production capabilities with this new service. The company has already streamed several shows created outside the U.S. on its TV Everywhere app and several programs produced in Australia have aired on Discovery. It seems like another bit of natural synergy, albeit it will take some work to properly highlight the shows to the North American viewers.

BROADCAST NETWORKS CHANGE......SLOWLY
CBS is premiering a new season of its Thursday night lineup tonight and given the paucity of viewers for most scripted broadcast network shows in recent years, you would think the networks would have been trying all sorts of things in an effort to bring in new viewers. And if by "all sorts of things" you mean "ideas that should have been rolled out years ago," you'd be right. Deadline has an interview with CBS president and chief marketing officer Mike Benson and I suspect his time at Amazon Studios will be a big help for the network. Still, I find it somewhat staggering that this is seen as a cutting-edge marketing idea in 2020:

Historically, show promo campaigns would see a second wave at midseason and plenty of "holiday finale" and "midseason premiere" stunting. Benson said his view, influenced by his time at Amazon, is that marketers should see TV as a "365-day cycle. This is not just something where there's a fall season and midseason."

Television is now a 365-day cycle? When did this happen? I'm guessing at least five years ago, but it's good to see CBS finally joining the parade. 

One other quick observation I've noted from speaking to a lot of publicists at CBS (and the other broadcast networks). Many of them still have trouble promoting their shows in unconventional ways and I think it really hurts them. A lot of that lack of vision comes from the top and I'm hoping Benson has a positive impact at CBS.

ASSUME YOU'RE IN THE MINI-SERIES BUSINESS
Writer/producer John Rogers (Leverage, The Librarian) tweeted out the picture below, which shows a note that he uses to remind him that the days of shows running eight or ten seasons is mostly dead:

People, It's not like I'm denying the realities of modern television development. This is the top left corner of my bulletin board. But it's worth looking at the old model and grokking that it's how we built the most artistically and financially successful pop medium on earth.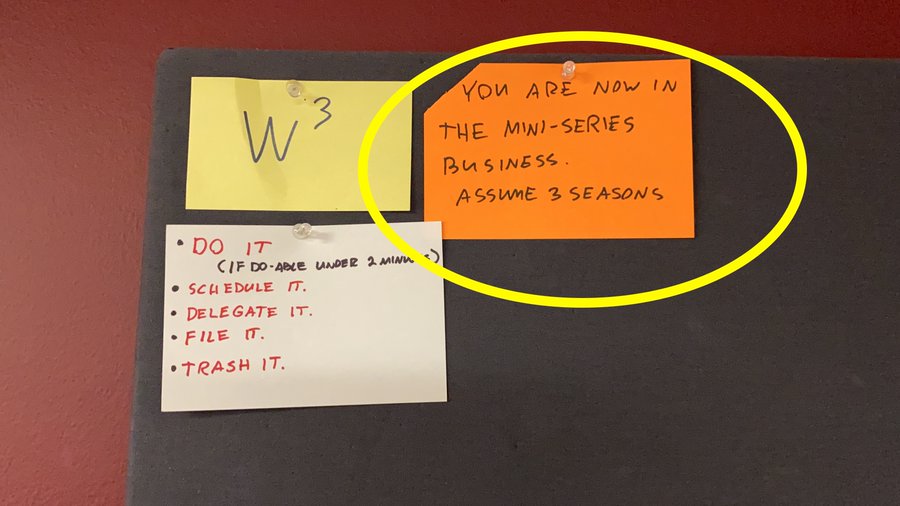 I've made this argument before. But the old model of television production is a lot like the golden age of albums. It made people a ton of money & allowed labels to give a band 3-4 albums to find themselves. Great stuff ensued. But once the finances changed, it was unsustainable. It's true that the old broadcast television model that allowed some shows multiple seasons to find their audience resulted in some great programs. But it was also a hugely inefficient model that could only exist when a lack of competition and huge syndication payouts kept it all afloat. Certainly streaming has contributed a lot to the trend of shorter and fewer seasons. But American television was moving in that direction already. And it's worth remembering that the shorter/fewer business model has been the norm for decades.




WHAT'S ON TODAY:
Here is a rundown of the new television programs premiering today:
1) B Positive Series Premiere (CBS)
Drew, a recently divorced father, discovers he needs a kidney and finds his donor in the last person he ever would've imagined.

2) Braxton Family Values Season Premiere (WEtv)
Following a year of love and loss, can the family come together and find their harmony once again?

3) Carmel: Who Killed Maria Marta? (Netflix)
Documentary series on the circumstances surrounding the death of María Marta García Belsunce, one of the most controversial criminal cases in Argentina.

4) Ice Road Rescue Season Premiere (NatGeo)
The Ice Road heroes face another harsh winter and new challenges. To stay on top and survive, they must take on new partnerships and explore new territories. But it's not easy when you're used to being the boss and it's time for the next generation to take on the battle of the ice roads.

5) Mom Season Premiere (CBS)
When Bonnie invites the ladies to a slumber party, childhood games reveal adult problem.

6) Operation Christmas Drop (Netflix)
Chasing a promotion, congressional aide Erica Miller forgoes family Christmas to travel across the Pacific at her boss's behest. Upon landing at a beachside Air Force base, she clashes with her guide, Captain Andrew Jantz, who knows her assignment is finding reasons to defund the facility. The pilot's pet project — Operation: Christmas Drop, a genuine, decades-old tradition where gifts and supplies are parachuted to residents of remote neighboring islands — has lawmakers wondering if his unit has too much spare energy. Despite their initial opposing goals, Erica softens once she  experiences the customs and communal spirit of Andrew's adopted home.

7) Paranormal (Netflix)
Skeptical about the supernatural, a hematologist is forced to investigate enigmatic events when a ghost from his past comes back to haunt him.

8) Riviera (Sundance Now)
A year has passed since the explosive finale of the last season and Georgina (Stiles) has abandoned the cursed Riviera, leaving all its devastation and damage behind to start a new life. Now a rising star in international art restitution, she has reinvented herself as Georgina Ryland, traveling the globe with a charming and charismatic new ally, Gabriel Hirsch (Graves), as they attempt to unravel a gilded conspiracy involving stolen artworks that will take them from Venice to Saint-Tropez to Argentina.

9) Young Sheldon Season Premiere (CBS)
After graduating high school, Sheldon has a breakdown when he realizes he may not be ready for college. Also, Dale tries to make amends with Meemaw

This newsletter is called "Too Much TV" because....well, it's hard to keep track of all the new television premiering everyday. To help you prioritize your viewing, click here to see our list of more than 400 upcoming television premieres, movies and finales. You'll find listings from more than 70 networks, as well as streaming services and web shows.

If you'd like to get this daily feature as an email, subscribe to our free daily "Too Much TV" newsletter here.

I'll be back with another one tomorrow. If you have any feedback, send it along to This email address is being protected from spambots. You need JavaScript enabled to view it. and follow me on Twitter @aysrick.