Here's everything you need to know about the world of television for Monday, September 11th, 2023. 

DREW BARRYMORE RETURNS, BUT SHE'S DOING IT FOR US
As you have no doubt heard by now, Drew Barrymore's talk show returned to production today and as she mentioned in the statement she released yesterday, "the decision is bigger than me."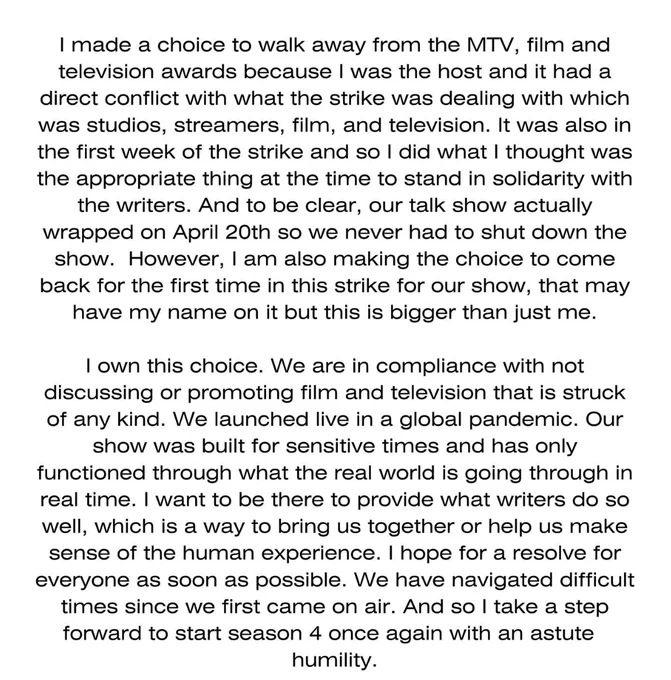 Honestly, I would have more respect for the decision if she said "Hey, my show is going into its fourth season and it's really finding a groove. Yes, the show uses WGA writers. But this is my shot at daytime TV and if I have to do without a guild writing staff and with a bunch of guests who I wouldn't normally book, then that's what I'll do."

Barrymore says she is doing the show without writers, although that seems unlikely. Which is why you saw WGA pickets outside the show's studios today. There is a sense among many WGA members the show will either have to resort to some under-the-table writing help and get some assistance from any current WGA members willing to reject their membership and become what is known as to become "financial core" non-members. This is how the daytime soaps managed to stay on the air with original episodes. Each show has some writing staff which decided at some point to claim "fi-core" status. Which allows them to continue writing during a strike. Although they will never be able to become a full-blown WGA member again. 

And btw, of all the bad takes I've read today about the Barrymore decision, this piece on FoxNews.com is the dumbest. In part because the headline has nothing to do with the story attached to it. No explanation of how Barrymore's return is somehow fighting against "cancel culture." In fact, the story doesn't mention that at all.





But Barrymore isn't the only daytime talker planning to return. Deadline is reporting that the CBS daytime talker The Talk might return next Monday with new episodes. Like Barrymore's show. The Talk had a WGA writing staff, so apparently they are going to write their own intros and cute story intros?

And then let's not forget ABC's The View, which has been the target of intermittent pickets from the WGA. That show also had a WGA staff, and despite the majority of the hosts having a very pro-labor, left-wing approach to politics, they don't seem to be troubled by the potential hypocrisy of their decision to continue working.

I HATE TIM GOODMAN
Okay, I don't hate longtime TV critic and journalist Tim Goodman. But as a writer who might have a bit of a competitive streak, I hate his ability to take an incredibly complex discussion and distill it down into one perfect paragraph:

The Streaming Wars were inevitable so you can't call all of these companies lemmings — everyone rushed into the future not just because they thought Netflix was the future but because industries evolve or die. Once people started cutting the cord, the end of the cable industry and linear television and the modes of operation for making it and making a profit from it changed. Technology only moves forward, as you know. Going back is not an option, no matter how many times people use the word "bundling."

See what I mean?

DISNEY AND CHARTER SETTLE THEIR CARRIAGE DISPUTE
Most people predicted the two media companies would resolve their carriage dispute before tonight's Monday Night Football broadcast and that is indeed what happened. 

Both sides gave something up, although I think there's a pretty good argument to be made that Charter came out of this outage in a stronger position. It convinced Disney to provide Disney+ to Spectrum customers. Although at some still publicly unannounced "wholesale arrangement" instead of the free price Charter was demanding. For Spectrum customers who subscribe to the more expensive Select Plus tier (which includes a lot more sports), they'll receive ESPN+ for free (under the same "wholesale arrangement) until the planned ESPN standalone streamer launches.

Charter also won the ability to massively strip lesser Disney-owned channels out of its programming package. Although it appears that at least some of them might appear in some sort of an extra programming tier, similar to the way some other vMVPDs handle niche networks.

Disney says its happy that it was able to negotiate a higher carriage fee, although one source I heard from today suggested it was well below the $1.50 per subscriber fee Disney had proposed. Disney execs also say they are pleased that more customers will have access to ad-supported versions of Disney+ and Hulu Basic and that those added viewers will boost viewer numbers and also ad revenue. All of which sounds pretty likely.

But if there was ever a situation where the phrase "the devil is in the details" was appropriate, it is this deal. 

I have many questions and unfortunately, there is no way to get answers to them from outside the two companies.

* What will the estimated loss of revenue be from the group of Disney channels that are being pulled from Charter's Spectrum TV service? Tens of millions over the course of a year seems like an estimate on the low side.

* Yes, this deal gets Disney+ in front of more customers. But Disney is missing out on the direct revenue not only from whatever subset of Spectrum customers who would eventually paid for Disney+ directly, but also those current customers who will save money by dumping their current Disney+ subscription and going through Spectrum.

* Did Charter agree to share any user data with Disney? In the infamous Sun Valley interview, Disney CEO Bob Iger said that one of the big positives of the streaming video world was the ability to have a direct relationship with customers. To know what they're watching, their contact info as well as whatever tracking info can be gleaned from their behavior. I would assume all that disappears once that customer shifts to Spectrum.

There are so many permutations of this deal that probably won't become public for months if not years.

But as I mentioned last week, this deal is likely to permanently change the linear TV world. Every negotiation moving forward will demand this deal as a starting point. And that's not good news for the legacy media companies.

ODDS AND SODS
* Every 9/11 since 2002, I have posted this piece about Cantor Fitzgerald Market Strategist Bill Meehan.

* A Daily Beast investigation found that Barstool Sports controls more than 40 Twitter burner accounts it uses to post copyrighted material from sporting events, films and TV.

* While nothing has been officially confirmed, there are a lot of reports that more producer deals are being suspended in the wake of the dual strikes, this time at NBC Universal and CBS Studios. At NBCU, affected producers include Lorne Michaels and Dwayne Johnson. At CBS Studios, the focus so far has been on non-writing producers, which includes Phil McGraw and his production company Stage 29 and DeVon Franklin and his Franklin Entertainment. 

TWEET OF THE DAY


WHAT'S NEW TODAY AND TOMORROW:

MONDAY, SEPTEMBER 11TH, 2023:
* Access Hollywood Season Twenty-Four Premiere (Syndicated)
* Daily Blast Live! Season Seven Premiere (Syndicated)
* Equal Justice With Judge Eboni K. Williams Series Premiere (Syndicated)
* Family Feud Season Twenty-Two Premiere (Syndicated)
* Football Must Go On (Paramount+)
* Inside Edition Season Thirty Six Premiere (Syndicated)
* Jeopardy Season Forty Premiere (Syndicated)
* Monday Night Football Season Premiere (ABC/ESPN)
* Person, Place Or Thing Series Premiere (Syndicated)
* Pictionary Season Two Premiere (Syndicated)
* The Drew Barrymore Show Season Premiere (Syndicated)
* 25 Words Or Less Season Five Premiere (Syndicated)
* 2023 MTV Video Music Awards (MTV)
* Who The Bleep Is That? Series Premiere (Syndicated)

TUESDAY, SEPTEMBER 12TH, 2023:
* Glow Up (Netflix)
* Kelce (Prime Video)
* Michelle Wolf: It's Great to Be Here (Netflix)
* The Swarm Series Premiere (The CW)
* 2023 MTV Video Music Awards (MTV)
* Welcome To Wrexham Season Two Premiere (FX)

Click Here to see the list of all of the upcoming premiere dates for the next few months.

SEE YOU TUESDAY!

If you have any feedback, send it along to This email address is being protected from spambots. You need JavaScript enabled to view it. and follow me on Twitter @aysrick.