Here's everything you need to know about the world of television for Thursday, October 29th 2020. I'm writing this from the Twin Cities suburbs, where AllYourScreens HQ is powered by room temperature coffee & leftover sushi.

THERE'S A LOT GOING ON AT COMCAST
Comcast released its third quarter earnings today and a couple of things stand out. There is going to be a lot of attention given to the subscription numbers for the new streaming service Peacock. But there a couple of very big caveats. First, even Comcast admits that its X-1 platform was a "driver" for new subscriptions. And by driver, they mean that anyone who uses the X-1 platform qualifies for a premium Peacock subscription. Which makes a Peacock subscription an even lower threshold than HBO's "convert an HBO subscription into HBO Max, given you jump through some random hoops." Also, Peacock ran an aggressive pre-launch deal which offered subscribers about a 50% discount if they prepaid for a year. So keep all of this in mind when you read stories about Peacock's incredible success.

A second thing that came out of this morning's call was that NBCUniversal is undergoing a massive reorganization. Essentially collapsing all of its network and streaming business into one streamlined organizational chart. The theory is that shows will no longer be "created" for a specific network. Instead, they'll be created and then assigned to the spot where the show most makes sense. I think it's a good move, but it's also an acknowledgement that NBCU broadcast and cable networks are in a freefall and it doesn't make sense to stick with an organizational chart that is still stuck in 2010.




THE MARCH OF THE GLOBAL TELEVISION SHOWS
I've written a lot about Netflix and Amazon's ambitions to create local shows from their various territories that could be both popular where they were created as well as globally. There have been a few "hits" over the past couple of years (most notably Netflix's Elite), but there haven't been enough of them to make it a successful business strategy. It's especially been a challenge here in the United States, where audiences are much more accustomed to watching TV shows and movies produced in Hollywood.

But there are some indications that audiences might be slowly embracing this global strategy. Last week, Netflix released its made-in-France original La Revolution, which based on global Netflix Top Ten charts seems to have done well everywhere but the U.S. This week brought the German-produced original Barbarians, which is not only doing well internationally, but is currently sitting at #4 on the overall Netflix U.S. list. 

Another recent winner seems to be the Amazon Original Mirzapur, which has been very popular in India since it's release last week. And it seems to be doing very well in territories that are multicultural or have sizable Indian populations.

AND OTHER NEWS
Here are a few other stories I covered this morning:

IMAX Reports Record $42.2M Q3 Loss

Sales Of British Homes Named "Hill House" Dropped After Release Of Netflix Series

Former 'Entertainment Tonight' Host Leanza Cornett Dies Following Head Injury

Byron Allen Media Group Buys Diginets This TV & Light TV From MGM

British Comic Bobby Ball Dies At 76 Following COVID-19 Diagnosis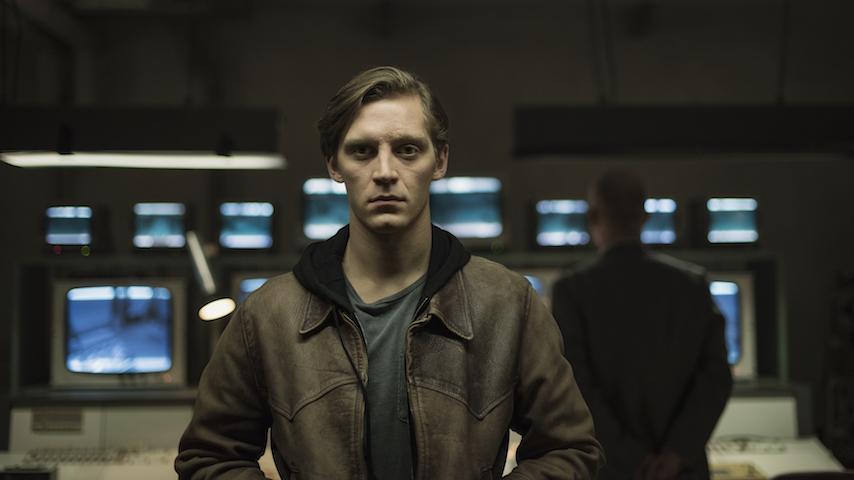 Here is a rundown of the new television programs premiering today:
1) A Creepshow Animated Special (Shudder)
The half-hour special features two stories directed by Creepshow showrunner Greg Nicotero. "Survivor Type" is based on the short story by Stephen King and adapted by Nicotero, stars Kiefer Sutherland as a man determined to stay alive alone on a deserted island no matter what the cost. "Twittering from the Circus of the Dead" is based on the short story by Joe Hill and adapted by Melanie Dale, stars Joey King as a teen whose family road trip includes a visit to the gravest show on earth.

2) City So Real (NatGeo)
Academy Award-nominated filmmaker Steve James' fascinating and complex portrait of contemporary Chicago delivers a deep, multifacted look into the soul of a quintessentially American city, set against the backfrop of its history-making 2019 mayoral election, and the tumultuous summer of COVID-19 and social upheavel following the death of George Floyd.

3) Court Cam Season Premiere (A&E)
This series gives viewers a front row seat to some of the most wild, unruly and outrageous courtroom moments recently caught on tape. 

4) Deutschland 89 Season Three Premiere (Sundance)
As Germany reinvents itself for the fourth time in the 20th century, Martin Rauch (Jonas Nay) finds himself in limbo during the peaceful revolution around him, both the existence of the HVA (East German Foreign Intelligence) and the future of his country left uncertain. Martin, pursued by Western spy agencies and the KGB, is determined to finish his last job for his new and mysterious superiors after uncovering a terrorist plot, going undercover to infiltrate an anti-imperialist terror cell. As he tries to bring the perpetrators to justice, he becomes entangled in the schemes of his Aunt Lenora (Maria Schrader) and his new partner in crime, Nicole (Svenja Jung). In the face of a fast-changing world, all our heroes need to reinvent themselves.

5) Ghost Adventures: Horror At Joe Exotic Zoo (Travel)
As the world has recently witnessed, the Greater Wynnewood Animal Park has a history marred by tragedy and drama. But believe it not, there's another chapter in this sensational saga. Park staff regularly experience mysterious and unexplained activity, which they are sure is connected to the park's ill-reputed events. Now, the "Ghost Adventures" crew – Zak Bagans, Aaron Goodwin, Jay Wasley and Billy Tolley – have been called to investigate, breaking new ground with the first-ever paranormal investigation inside the Oklahoma park.

6) The First 48 Season Premiere (A&E)
The biggest enemy for any homicide detective is not the suspect...it's the clock. In fact, if they don't find a lead in the first 48 hours, their chances of catching the killer are cut in half. The First 48 tracks real homicide detectives as they struggle to solve murder cases across the country. Gripping, authentic and dramatic, viewers are brought along for the ride as the detectives hunt for killers to bring to justice.
This newsletter is called "Too Much TV" because....well, it's hard to keep track of all the new television premiering everyday. To help you prioritize your viewing, click here to see our list of more than 400 upcoming television premieres, movies and finales. You'll find listings from more than 70 networks, as well as streaming services and web shows.

If you'd like to get this daily feature as an email, subscribe to our free daily "Too Much TV" newsletter here.

I'll be back with another one tomorrow. If you have any feedback, send it along to This email address is being protected from spambots. You need JavaScript enabled to view it. and follow me on Twitter @aysrick.