In the years to come, entire chapters of business school textbooks will be devoted to the flaming wreckage of bad ideas that was the mobile-first video service Quibi.

According to an open letter released by the company on Wednesday, plans are currently underway to shut down the service, perhaps as soon as in a few weeks. And while dissecting the mistakes of a company before its body is even cold might seem premature, well, this is the Internet, which is built on misguided hot takes and "Here's what your favorite celebrity looks like now" clickbait. So in that tradition of setting the bar low, here are five things I think we should all have learned from the quick rise and fall of Quibi. A company that - along with Go90 - managed to burn through somewhere in the neighborhood of $4 billion without ever figuring out how to attract a viable customer base.

1) 'RUNNING YOUR MEDIA COMPANY LIKE A START-UP DOESN'T MEAN SPENDING MONEY LIKE YOU'RE LAUNDERING IT FOR THE RUSSIANS
To civilians, business start-ups are thought of as nimble organizations that can change direction on a dime and can get $1.24 worth of value out of every dollar its executives managed to wrestle out of the hands of investors. 

In reality, start-ups can also be companies that waste money on expensive swag and office space butter suited for a Wall Street law firm. There are lots of dumb ways to spend money and it seems as if Quibi managed to stumble across all the best of them.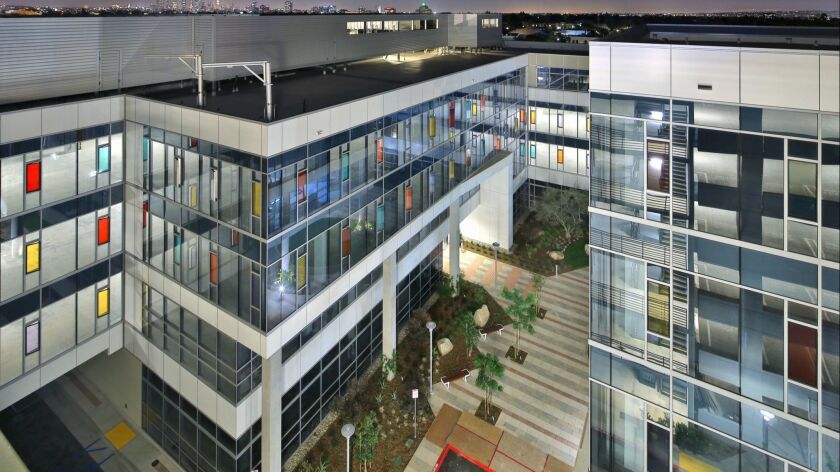 Here is a photo of Quibi's headquarters at 959 N. Seward St. in Hollywood. The company signed a lease last October for 49,000 square feet of office space spread over two floors. The financial terms of the ten-year-lease weren't made public, but landlord J.H. Snyder Co. was asking about $4.50 per square foot for the space before Quibi grabbed it. 

Then there is the amount of money Quibi was paying for its celebrity-centric programming. In several interviews, Quibi Founder & Chairman of the Board Jeffrey Katzenberg bragged the company was paying content creators $100,000 per minute for their programs. That's $6,000,000 an hour or the same amount of money Netflix reportedly paid for an hour-long episode of Away. That show starred Hilary Swank and involved enough CGI to get a crew to Mars.

But let's break it down another way. Let's strip out marketing costs, employee overhead and that swanky office space with a central garden. Each Quibi subscriber was in theory paying $5 a month for the service. So Quibi needed 20,000 subscribers just to pay for one minute of programming costs. Just the programming costs. 

Everything about the cost structure for Quibi was just insane. And some of the fault lies with management, whose job it is to manage expenses and make strategic decisions on where to spend money. Instead of leasing a bunch of expensive office space because it makes you feel successful and as Meg Whitman said in an interview, the walk to nearby Hollywood reminded her of being in Berlin.

2) IF YOU ARE GOING TO INNOVATE A PRODUCT AND CHANGE BEHAVIOR, YOU HAVE TO ACTUALLY KNOW HOW THE PRODUCT IS USED AND WHY
Everyone agrees that people like to watch mobile video. But I never got a sense that executives at Quibi knew why people watched it or how they typically consumed it. In an infamous piece in Vulture, Quibi CEO Meg Whitman admitted that she "wasn't much of an entertainment enthusiast." And Jeffrey Katzenberg has an assistant print off his emails so he can read them.

On the upside, they bragged that they had hired "smart millennials" who viewed mobile video regularly and knew the marketplace.

That is one of the craziest things I've ever heard. The unspoken part of that statement is "yeah, I don't know this space. But I'm so smart I can figure it out without any problems." But the more obvious issue is that if you are essentially creating an entertainment niche from scratch, you should understand your customers and know what they are looking for in a mobile video product. Running Quibi and not being a regular consumer of mobile video is like running a broadcast TV network and saying "Yeah, I don't own a television. But I've hired some young couch potatoes who can tell me what the really good stuff is."

3) CELEBRITIES ARE LIKE YOU AND I....THEY CAN HAVE DUMB IDEAS
It's not surprising that executives who think their previous success means that they can be successful in any arena would think the same thing applies to celebrities. It's not just that Quibi spent a lot of money on projects with some celebrity connection. It's also that many of the celebrity-led projects weren't very good. Yes, celebrities have name recognition and that can bring in some eyeballs to sample a video. But it's a big ask of any celebrity to ask them to convince people to pay $5 a month for any service. As an example, lots of celebrities have YouTube shows and Facebook Watch series. They have almost all found its very difficult to get fans to watch their shows on a regular basis. And all of those shows are streaming for free.

4) IF YOU ARE GOING TO BUILD A NON-TRADITIONAL SUBSCRIBER BASE, THEN YOU HAVE TO DO NON-TRADITIONAL PR
I have been known to complain about lackluster PR efforts from networks and streamers. In part because in an era where competition for eyeballs is so intense, reaching out to any outlet who will talk to you should pretty much be a default approach to PR. And if Quibi spent money like they were a large veteran media company, then by all accounts they approached their PR efforts with the same focus on looks over results. After its initial launch, it was near-impossible to reach someone on Quibi's PR team and when you did, it was clear they felt as if they were being bothered by insects.

They seem to have spent endless amounts of effort placing "exclusive" stories in high-profile titles such as "Entertainment Weekly." Placements that look good to the boss, but don't do much to actually attract the audience Quibi claimed to be targeting. I find it unlikely that any mobile video-comfortable 22-year-old will ever say "Hey, did you read that piece in Entertainment Weekly! I've got to check out this Quibi!" 

I wrote a lot about Quibi programs over its six-month run, including interviews with writers and producers of various shows. And all of those interviews were the result of outside PR firms reaching out to me. From my perspective, Quibi PR was useless. And based on conversations with fellow TV critics, my experience was pretty typical. Quibi PR seemed to only be interested in dealing with top outlets that made them look good and I presume also made Quibi executives happy. 

And that was a self-defeating approach, since the people who are reading "Rolling Stone" or "Time Magazine" were not Quibi's most likely subscribers. And while the service did several high-profile promotional stunts (including a screening of one of their shows in Fortnite), they never followed up those stunts with the ground-level coverage you need to make any new subscriber-based service feel like a "must-have."

5) RAISE MONEY TO MATCH THE PROJECT, NOT THE OTHER WAY AROUND
A common thing you see happen in the start-up world is that someone has a good idea and when they go out to raise one million dollars, they suddenly find themselves being offered ten million. And instead of sticking with their million-dollar idea, they try and manipulate their vision to fit the larger budget. And that's what Quibi always felt like to me: money chasing an idea. If Katzenberg and Whitman had wanted to be in the mobile video business, they would have been better off raising a $100 million round and giving $10 million each to 5-6 interesting ideas. Then standing back and seeing which one works. But that more reasonable approach doesn't fit the DNA of an executive like Katzenberg, who has this reputation in Hollywood for "making things happen." He would never put himself in a situation where someone could say "4 of his seed mobile video companies failed," instead of framing as "he found a successful idea and built it out."

If there is one over-arching story about Quibi it is that nearly everyone who heard about the idea thought it was a mis-guided mess. But no one wanted to be the person to bet against the track record of Katzenberg and Whitman. Which might tell you as much about the vision of media industry bankers as it does about the state of the mobile video business.