Here's everything you need to know about the world of television for Thursday, August 4th, 2022.

SO ABOUT THOSE WARNER BROS. DISCOVERY Q2 NUMBERS
The Warner Bros Discovery Q2 earnings call just wrapped and here are a bunch of quick takeaway highlights:

* This really feels like an old-school approach to the entertainment business vs. something else. Zazlav all but yelled "Screw you, Kilar," as he and his team frequently repeated that streaming was only a component of the business, no more or less important than anything else. He tripled down on preserving the theatrical window and reiterated that the company is shedding the idea of producing any high-profile straight-to-streaming titles. Which has always seemed strange to me given that straight-to-streaming is strategically no different than straight-to-DVD was back in the day. Sure, you can overspend on a straight-to-streaming title, but the concept in general makes a lot of strategic sense. Which is why the other major streamers/media companies are still pursuing the idea. 

* Zaslav made a point of saying that creating films specifically for SVOD was a flawed strategy & that he doesn't believe in making movies that give streaming a front seat in strategy or content production. "'This idea of expensive films going to streaming, we cannot find an economic case for it'." Although to be snarky, if you have a way to write off the entire production costs for tax purposes, then yes, then releasing Batgirl on streaming doesn't make financial sense. But the thing that no one said out loud is that in the case of both Batgirl & the Scooby animated film, there aren't any viable options if WBD decided not to release them. The DCU titles are seen by Zaslav as a core piece of content. And there is no way the company would license the title and take a chance on it becoming a hit on a rival platform.

* HBO Max is from Mars, Discovery+ is from Venus...




* It was silly for people to speculate that some sort of lay-offs would be announced today. One thing I learned from my time as a financial reporter is that companies like to focus on positives during earnings calls. But there frequent references to things such "efficiencies," and strategic consolidation, both of which are another way of saying layoffs.

* Every time a Warner Bros Discovery executive uses the phrase "synergy program," an actor loses their job. I'm joking, but only sort of. Synergy is finance-speak for combining assets in a way that hopefully saves money. That generally means combining two similar divisions and cutting the headcount in half. And the second way towards synergy is slowing the amount of spending on overhead and content.

* It sounds like the new combined streaming platform will be built around the current Discovery+ tech deck, with added features brought over from HBO Max. And there is a rough launch date of summer 2023. There was also a brief mention that the eventual global subscriber number is around 130 million.




* While Warner Bros. Discovery is touting the addition of 1.7 million global SVOD subscribers, that came entirely from outside the U.S. Domestic subscribers (U.S. & Canada) dropped 300K from Q1.

* Also, it's worth noting that a big part of the international growth of HBO Max has been driven by heavy discounting and bundling, which the company is now saying they plan to mostly eliminate.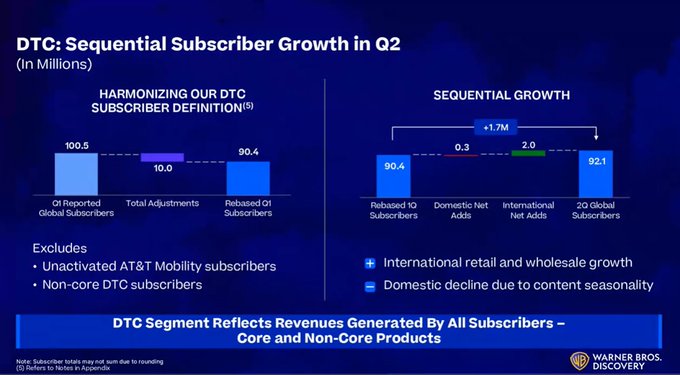 * This is a bit geeky, but Warner Bros. Discovery is adjusting the way they report DTC video subscribers moving forward. They won't be including smaller SVOD subscriber #'s from services such as Motor Trend, etc. But they will still be reporting the revenue. Which seems...a bit misleading. I'm trying now to get some clarity from the company about which services will be considered "non-core" moving forward.

* Zaslav and his senior team warned his executives would not get drawn into "content spending wars," although they were prepared to spend on quality on content. I always laugh when I hear "we're only spending on quality," because the history of the entertainment business is littered with the smoking remains of executives who decided they were only going to produce high-quality hits. Also, what's the alternative? "Here at Warner Bros. Discovery, we've decided we're buying crap and lots of it!"

* And this is the rationale for making the cuts that have already been announced. Although the phrase "unproven financial returns" is doing a lot of the work here. Because at the end of the day, isn't any new idea or initiative have an "unproven financial return?"




* In the end, we are way too early in the process to know whether this track for the company is a good move or not. My personal opinion is that there are some strategic missteps here, but I'm not the one who is a billionaire, so what do I know?

PARAMOUNT'S SQUISHY SVOD SUBSCRIBER NUMBERS
The corporate name may now be Paramount Global, but what hasn't changed is the company's casual lack of transparency about streaming subscriber numbers and where they are coming from. If you look at the materials from Paramount Global's Q2 earnings release today, you'll find the company is touting the fact that Paramount's SVOD services added 5.2 million subscribers, with 4.9 million of those coming from Paramount+. Which sounds very impressive, especially given the weak comparable numbers from rivals such as Netflix and Peacock.

But when you dig down a bit into the numbers, there are a lot more questions that details. The release says Paramount+ subscriber growth was partially driven by successful international market launches, including the UK, Ireland and South Korea. But what does "partially" mean? How many new subscribers were there in the U.S.? 

It's even more difficult to figure out what is happening with Paramount Global's stand-alone OTT services: Showtime, Noggin and BET+. It's also worth noting that Paramount considers subscribers "unique to each of our services, whether offered individually or as part of a bundle." Which means that if you subscribe to the new Paramount+/Showtime bundle, you count as two subscribers in the eyes of Paramount Global.

Based on some comments made during the subsequent Earnings conference call, much of the Paramount+ growth seems to be coming globally, which financially is a mixed bag for Paramount. The company partnered with Sky for its launch in the UK and Ireland and while that move substantially lowers customer acquisition costs, it also means the company is sharing revenue with someone else. 

One of my biggest questions is about the subscriber path for Showtime, BET+ and Noggin. These services seem have lost some number of subscribers, although it's not precisely clear how many of what the distribution of losses between the services might be. While the kid-oriented Noggin has been surprisingly successful, I suspect there is continued internal corporate pressure to shut down the service and move the programming into Paramount+. The problem with that move for parents is that audience is primarily pre-school and very young children and the fact that Noggin is ad-free is a great selling point. Noggin also provides a safe environment for young viewers and parents can allow the kids to make their own viewing choices without worrying they will accidentally stumble across Beavis And Butt-Head.



YOU CAN LEAD VIEWERS TO A SHOW, BUT YOU CAN'T MAKE THEM WATCH
I have been pretty tough on some of the Netflix marketing efforts, particularly on shows that need a bit of extra help finding their audience. So I found these comments in The Daily Beast from First Kill showrunner Felicia D. Henderson pretty interesting. The series was just canceled by the streamer after one season and as you might imagine, Henderson is both confused and mildly angry:

The streaming service said the series didn't build a strong enough following after its eight episodes were released back in June. Felicia D. Henderson says the company's top brass gave her hope that this would change, even as they failed to put their advertising might behind it.

"When I got the call to tell me they weren't renewing the show because the completion rate wasn't high enough, of course, I was very disappointed," Henderson told The Daily Beast via email. "What showrunner wouldn't be? I'd been told a couple of weeks ago that they were hoping completion would get higher. I guess it didn't."

Fans told The Daily Beast that they barely saw any promo for the show and mostly learned about it on social media. Henderson, who is currently recovering from a bout of COVID, says the streaming service didn't sell potential audiences on everything it had to offer.

"The art for the initial marketing was beautiful," she said. "I think I expected that to be the beginning and that the other equally compelling and important elements of the show—monsters vs. monster hunters, the battle between two powerful matriarchs, etc.—would eventually be promoted, and that didn't happen."

Now while I am certainly no fan of Netflix's overall approach to marketing, this cancellation doesn't sound as if it was the result of a failure to market. In fact, later in the interview Henderson touts the initial viewer numbers for the show:

"The show is kick-ass and we were in the top five globally and domestically for three of the first four weeks. I was very hopeful.

If you add those two data points together: the show had solid initial viewing but not enough of them completed the series, then you see the problem from Netflix's perspective. This wasn't a problem with the marketing. Marketing wouldn't have helped a lagging completion rate. What happened was that for whatever reason, some percentage of viewers weren't sticking around. Which is bad news for a potential second season, because the data already hints that you've hit the maximum number of viewers the show is going to get.

My experience has been that generally producers and showrunners don't like the completion rate metric because it's unfamiliar. But at the same time, if you're running a streaming service, how many viewers watch the entire season is a data point that tells you a lot about the viability of a series. It's just a compressed version of watching viewers tune-out episode by episode over a 13-week season.

TWEET OF THE DAY




ODDS AND SODS
* Jaime Pressly has been added to the cast of Fox's Welcome to Flatch as it returns for a second season. She will play Barb Flatch, a Realtor who returns to her hometown after a bad divorce.

* The Disney+ Original series Turning The Tables With Robin Roberts has been renewed for a second season.

* Writers Guild Arbitration with Netflix yields $42M in new residuals for members.

* A first video look at the upcoming Hulu series Tell Me Lies, which follows a tumultuous but intoxicating relationship as it unfolds over the course of 8 years.

WHAT'S NEW FOR THURSDAY
Here's a quick rundown of all the new stuff premiering today on TV and streaming:

All Or Nothing: Arsenal (Prime Video)
Alone: The Skills Challenge Series Premiere (History)
Battlebots Champions Series Premiere (Discovery)
Faking It: Michael Jackson (Discovery+)
Good Grief Season Two Premiere (Sundance Now)
Kakegurui Twin (Netflix)
Lady Tamara (Netflix)
Mike Judge's Beavis And Butt-Head (Paramount+)
Super Giant Robot Brothers (Netflix)
Sweet Life: Los Angeles (HBO Max)
Tracker's Diary: Bears Of Katmai (CuriosityStream)
Wedding Day (Netflix)
What Josiah Saw (Shudder)

Click Here to see the list of all of the upcoming premiere dates for the next few months.

SEE YOU FRIDAY!

If you have any feedback, send it along to This email address is being protected from spambots. You need JavaScript enabled to view it. and follow me on Twitter @aysrick.