Here's everything you need to know about the world of television for Monday, July 12th, 2021. I'm writing this from the Twin Cities suburbs, where AllYourScreens HQ is powered by the fact that I have (mostly) recovered from my viral infection.

THANKS TO ALL OF YOU
I continue to add subscribers at a pretty regular clip and crossed the 16,000 mark over the weekend. It's especially gratifying the subscription list includes a large number of people working inside the industry. I'm pleased that I can offer value to all of you. I'm also enjoying the fact that I've carved out a unique niche for myself. I don't think there is anyone else out there doing a free Monday-Friday newsletter devoted to the entertainment industry other than maybe CNN's "Reliable Sources" newsletter, which has two people writing it. 

I always welcome your feedback (and story suggestions) at This email address is being protected from spambots. You need JavaScript enabled to view it.. 

WHAT HAPPENS TO A TWITTER ACCOUNT WHEN THE SHOW ENDS?
Every network and streamer creates show-specific Twitter accounts for their shows and depending on the social media team, the success of the accounts vary wildly. But one of the challenging questions for any team is deciding what to do with the account when the show ends.

In most cases, the Twitter account just sits there untouched for years. For instance, this Twitter account for the Fox series Fringe was last updated when the series ended in 2013. 

If the show is produced in-house (ie. NCB Studios for NBC), then it might make sense to just leave the account live and pin a tweet at the top that points fans to where they can stream the show (in this instance, Peacock). The only other time to update it would be when one of the stars of the show is appearing on a new series on the network. It might not have a huge impact, but give that fans of the cancelled series are probably still following the show's Twitter account, you might was well take advantage of the captive audience.

You can also just take the account offline, which in some ways is the easiest approach and the one least likely to cause any problems down the line. But what you don't want to do is completely delete the account name. Because if you do that, someone else can come in and claim the name.

I noticed several months ago that the Twitter accounts for some canceled Fox shows had been deleted, so I went in and claimed the one for the 2018 series The Cool Kids. I posted a few times and was curious to see if anyone would notice. I did receive some confused DMs from fans of the show, but otherwise, it has managed to stay off of everyone's radar.




I mention this primarily because a bad actor - imagine someone hyping adult content - could come in and take over deleted accounts and use them for months with no connected with the show even noticing. Until one day The Daily Beast publishes an expose about how someone is using the old Cool Kids Twitter account to link to dolphin sex videos.

So, no. Don't delete your Twitter accounts. Take them offline and protect everyone involved.

HEAD OF PARAMOUNT+ SAYS 'BLACK WIDOW' NUMBERS POINT TO WINDOWING 'OPPORTUNITY'
Kelly Day, who overseas Paramount+ as President International Streaming Services at ViacomCBS, said during a panel at the Cannes Film Festival Marche that the generally strong numbers from Black Widow last weekend point to a future where theatrical and streaming releases can have variable windows that allow them to co-exist and maximize revenue:

Day noted that Paramount was also continually analyzing its windows strategy. Timing with the launch of Paramount+ earlier this year, ViacomCBS president Bob Bakish confirmed that the company would be halving the traditional window on its titles to 45-days, and 30 for smaller films.

Day also repeated that Paramount+ plans to launch in 45 markets by the end of next year.

DISNEY TO RAISE PRICE FOR ESPN+ SUBSCRIPTIONS
Disney will increase the cost of an ESPN+ subscription from $5.99 to $6.99 per month beginning in August. The cost of an annual subscription will increase from $59.99 to $69.99:

In April, Disney reported that ESPN+ had 13.8 million subscribers as the streamer continues to win exclusive streaming rights to major sporting events and release original programming with prominent athletes like Abby Wambach, Ronda Rousey and Tom Brady. Earlier this month, ESPN nabbed the exclusive rights to the Wimbledon championship through 2035, with live streaming rights going to ESPN+, which will be the only platform for tennis fans to watch full match replays and live coverage of the qualifying rounds. The streamer will also have exclusive access to 75 games from the National Hockey League for the upcoming season, as well as next season's PGA Tour Live.

It's interesting that while the stand-alone subscription will increase the cost of the Hulu/ESPN+/Disney+ bundle will remain the same at $13.99 a month. I wouldn't be surprised to see the same thing happen with Disney+ - a nominal increase for standalone subscriptions while the bundle price remains the same.

ONE LAST THING ABOUT DAN SCHNEIDER
I have written a great deal about former teen TV show producer Dan Schneider in recent weeks. And given that, I found this excerpt from a Hollywood Reporter interview with Nickelodeon President and CEO Brian Robbins very interesting:

You've known and worked with Dan Schneider since Head of the Class. He recently told the New York Times that he has a desire to come back and has programming that he's working on. Is there room for him at ViacomCBS?
I don't think right now we're looking to work with Dan. I don't know what his plans are, quite frankly, but whatever they are, I wish him luck. I wasn't here when he was dismissed and he and Nick went separate ways so it's hard for me to comment on that relationship and I'd hate to speculate on rumors. I have no ill will but we are not contemplating working together right now.

Schneider created the original iCarly. Was he compensated for the revival?

I don't know the specifics; I wasn't here when he did his separation agreement. He definitely didn't have anything to do with the new iCarly, so I don't believe he was compensated, no.

A couple of thoughts on this. First, I know that due to the terms of the separation agreement there are limits to what anyone at Nickelodeon can say on the record about the split or his behavior while he worked with the network. But I do believe this is the first time I've heard someone at the network officially describe the split as a "separation agreement. 

Not that we are ever going to know, but if Schneider did indeed sign away his rights to a future iCarly reboot, then the network must have had a very strong case.

From a journalism standpoint, I wish there would have been a follow-up questions along the lines of "Without getting into specifics about Dan Schneider, what guidelines has the network put into place to help prevent this situation from happening in the future.?"

BTW, the interview with Robbins is an interesting read and while he does use a bunch of CEO-speak when he discusses strategy, there still are a number of good insights.

FACTOID OF THE DAY
The LeBron James skins and weapons have now joined Fortnite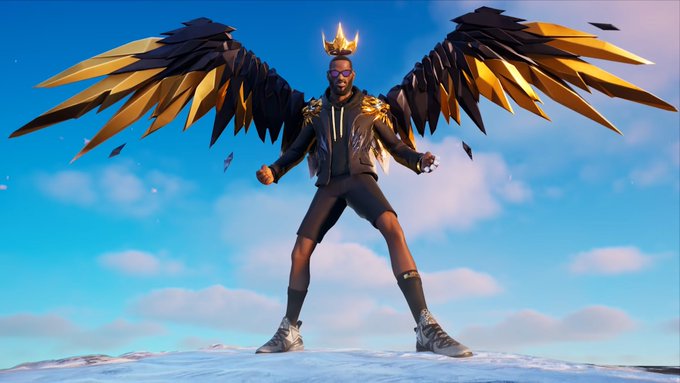 ODDS AND SODS
* Starz has greenlit a second season of Power Book III: Raising Kanan ahead of the series premiere.

* I'm not sure what the audience is for it, but Samsung has expanded its AVOD platform to the web so anyone can use it.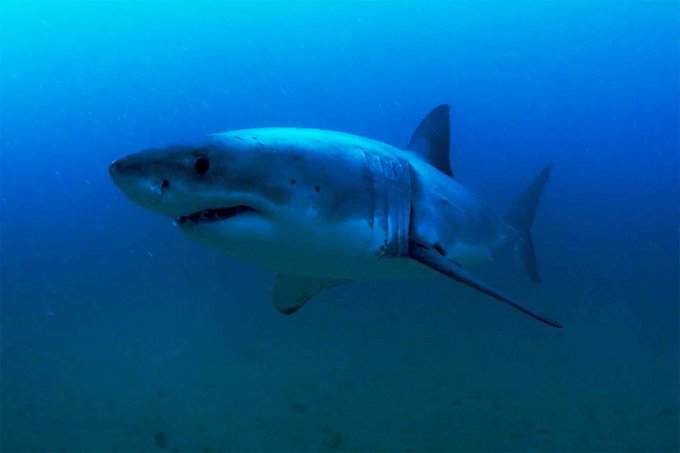 TUESDAY PREMIERES
1) Brad Paisley's Shark Country (Discovery)
"Country star Brad Paisley and comedian JB Smoove meet in the Bahamas to attract new fans, Sharks! With Dr. Austin Gallagher's help, they put Brad's musical talents to the test in shark-infested waters to see how sound can attract or repel sharks"

2) Fin (Discovery+)
"Acclaimed filmmaker Eli Roth and a professional group of scientists, researchers and activists sail around the globe to unveil the truth behind the death of millions of sharks, exposing the criminal enterprise that is impacting the extinction of the misunderstood creatures."

3) Great White Comeback (Discovery+)
"In 2017 one of the strangest ocean mysteries occurred in South Africa when an entire Great White population disappeared overnight. Alison Towner and her team, Enrico Gennari and Andy Casagrande head out on an epic investigation to find the missing Great Whites of Seal Island."

4) Miracle Workers Season Three Premiere (TBS)
"Miracle Workers: Oregon Trail follows an idealistic small-town preacher, a wanted outlaw and an adventurous prairie wife as they lead a wagon train west."

5) Mother Sharker (Discovery+)
"It's a great mystery where tiger sharks give birth. One team of scientists and shark experts including Dr. James Sulikowski, Dr. Toby Daly-Engel, Dr. Neil Hammerschlag and Jamin Martinelli deploy an arsenal of new technology to find out, but they need to meet some of the Bahamas' biggest tiger shark mothers face-to-face for it to work."

6) Ridley Jones (Netflix)
Curious kid Ridley and her friends protect the Museum of Natural History's treasures and keep its magical secret safe: Everything comes alive at night!

7) Spawn Of El Diablo (Discovery)
In 2012, Michelle Jewell documented one of the largest great white mating scars ever recorded. Recently similar marks have appeared, leading her to believe this is a possible mating ground and that mega-shark El Diablo has returned to South Africa

8) World Biggest Bull Shark? (NatGeo)
It was a freak encounter that broke all the records. In 2012, off the coast of Florida, shark scientist Dr. Neil Hammerschlag caught the mother of all bull sharks—it stretched more than 10-feet long and weighed over 1,000 pounds! They named her Big Bull and set her free. Bull sharks in Florida patrol the beaches, terrifyingly close the swimmers, and feast on seasonal migrations of baitfish. Many long thought these sharks were just well-fed, but now some scientists believe that Big Bull is the matriarch of a unique population of giants. There is only one way to find out ... and you gotta get close.

If you'd like to get this daily feature as an email, subscribe to our free daily "Too Much TV" newsletter here.

If you have any feedback, send it along to This email address is being protected from spambots. You need JavaScript enabled to view it. and follow me on Twitter @aysrick.