Here's everything you need to know about the world of television for Friday, June 11th, 2021. I'm writing this from the Twin Cities suburbs, where AllYourScreens HQ is powered by pasta and ginger ale over ice.

It's a typically shorter newsletter due to all of the Friday premieres. Enjoy the weekend and I'll see you Monday!

SINCLAIR RAISING MONEY FOR STREAMING SERVICE
The NY Post is reporting that the Sinclair Broadcast Group is quietly been raising $250 million for a streaming service that would stream games by the St. Louis Cardinals, the Dallas Mavericks and scores of other popular sports teams to fans over the Internet. And while there aren't a lot of details about the service, this paragraph jumped out at me:

Sinclair has been telling hedge funds and other potential investors that it aims to charge $23 a month to fans who want to stream games in markets where it owns sports broadcasting rights, sources said.

Fans who live outside of Sinclair's 21 territories, where it owns broadcasting rights tied to 42 teams, would likely be out of luck.

Now if Sinclair can successfully launch this service, it would be a very big game changer for the industry. But $23 a month? I suppose if you're a superfan of one of the teams, maybe that works. But that price point just seems extremely optimistic.

FACTOID OF THE DAY
The web site World Soccer Talk recently conducted a poll and the results are kinda interesting: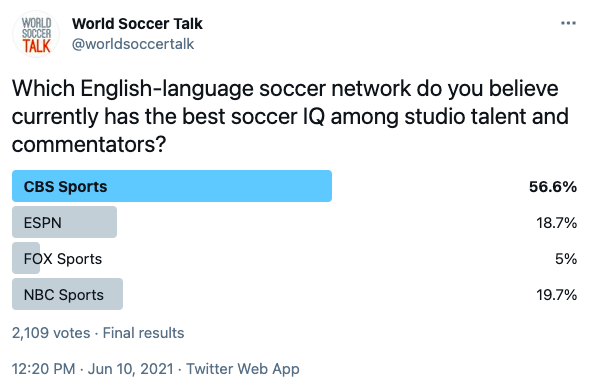 NETFLIX ANNOUNCES WITCHER CON
Netflix announced earlier today that it is launching a virtual fan event called WitcherCon, which will take place on July 9th.
The event is being planned in collaboration with CD PROJEKT RED and it will be the first-ever multi-format event dedicated to The Witcher universe. Details are still a bit light, but the press release from Netflix promises that WitcherCon will feature interactive panels, never-before-scenes from the upcoming new season and overall it will be "an epic event for Witcher fans old and new, bringing together the worlds of The Witcher video games and the TV series."
And given that know that production on season two of the show wrapped in April, it's likely fans will also get a premiere date announcement at some point during the event.

HOW THE POLITICS OF 'THE WEST WING' RUINED AMERICA
I don't do the best job of promoting pieces I've posted at AllYourScreens in the newsletter. But I wanted to highlight this piece from a couple of days ago that have been receiving a ton of attention. In it, I argue that the Aaron Sorkin TV series The West Wing set a number of expectations in the minds of liberals that don't match up with the way that national politics work in real life. Too many people see the show as a blueprint, instead of a well-written aspirational tale:

In many ways, Barack Obama was The West Wing president. A smart, charismatic outsider who could articulately dissect an obscure economics theory while also talking confidently about each and every tune on his Spotify playlist. He saw himself as being the bridge to people on the other side of the political spectrum and his ability to reach voters who saw his vision led them to believe that even his opponents would have to acknowledge the sincerity and intellectual correctness of his beliefs.

But as it turned out, Obama's opponents did not see The West Wing as a blueprint for the way political discourse should take place. Conservatives were soon arguing that America's first African-American president was "the most decisive president in history" and that he "made everything about race." There were claims that he hated America, was a secret Socialist, an acolyte of radicals, a fraud who wanted to destroy the American way of life. Obama accomplished some important things over his eight years, but it's worth noting that he did it without any help from conservatives or anyone who self-described as Republican. 

Yet it's notable that in recent interviews Obama still seems to be wedded to this Jeb Bartlett view of politics. He will concede that Republicans weren't cooperative and were often actively working against him to block policies he still believes are good for Americans. He has recently admitted that these beliefs might even threaten democracy. But he also still believes that it is possible to change minds, to reach out to opponents, and open their minds in the same way that Richard Schiff's Toby Ziegler changed the conversation by crafting just the perfect turn of a phrase.



TODAY'S PREMIERES 
1) Betty Season Premiere (HBO)
The series follows five young women on journeys of self-discovery against the backdrop of New York City's male-dominated skateboarding scene.

2) Clarkson's Farm Series Premiere (Amazon)
An intense, arduous and frequently hilarious year in the life of Britain's most unlikely farmer, Jeremy Clarkson. Join Jeremy and hios rag-tag band of agricultural associates as they face-up to a backdrop of unhelpful weather, disobedient animals, unresponsive crops and an unexpected pandemic.

3) Flack Season Two Premiere (Amazon)
Season two picks up from the events of the season one finale which saw Robyn's work and home lives collide catastrophically when she could no longer resist the temptations of her addictions. She's sacked PR intern Melody - for her own good - but closer relationships could be damaged beyond repair. Will Eve forgive Robyn, and with Melody frowzen out, with Mills Paulson PR ever be the same again?

4) Home Before Dark Season Two Premiere (Apple TV+)
Young investigative journalist Hilde Lisko moves with her family to the small town her father left behind, only to unearth shocking secrets in her persuit of the truth.

5) Human: The World Within Series Premiere (Netflix)
Cutting-edge science and captivating personal stories collide in this illuminating docuseries about the incredible workings of the human body.

6) In The Heights (HBO Max)
The movie fuses Lin-Manuel Miranda's kinetic music and lyrics with director Jon M. Chu's lively and authentic eye for storytelling to capture a world very much of its place, but universal in its experience, where the streets are made of music and little dreams become big. 

7) Love (ft. Marriage and Divorce) (Netflix)
It's another season of twists, turns and troubles plaguing the seemingly happy marriages of three women who work on a radio show.

8) Love, Victor Season Two Premiere (Hulu)
Season two finds a newly out-of-the-closet Victor entering his junior year at Creekwood High. But being out brings with it new challenges as Victor faces a family struggling with his revelation, a heartbroken ex-girlfriend in Mia, and the difficulties of being an openly gay athlete - all while navigating the excitement of his relationshi with Benji.

9) Lupin Season One Part Two (Netflix)
Pursued by Hubert and his henchmen, Assane scrambles to find Raoul and wins an unlikely new ally as he draws up a grand plan to reveal Hubert's crimes.

10) Shock Docs: The Devil Made Me Do It (Discovery+)
Charged with a brutal murder, a Connecticut man claims his innocence, insisting "the devil made me do it." For the first time in U.S. history, the existence of demonic forces is used as a defense at trial. Shock Docs: The Devil Made Me Do It examines the harrowing events leading up to the murder and the astonishing court case that followed. Based on the real-life inspiration for New Line Cinema's upcoming horror film The Conjuring: The Devil Made Me Do It, this terrifying documentary dives into the true story, with never-before-seen interviews with the family, renowned demonologists Ed and Lorraine Warren, the defendant's lawyer and local police

11) Skater Girl (Netflix)
In the inspiring feature film Skater Girl, a teen in rural India must fight against all odds to follow her dreams of becoming a skater and competing in the national championship.

12) Sweet & Sour (Netflix)
Faced with real-world opportunities and challenges, a couple endures the highs and lows of trying to make a long-distance relationship survive.

13) Timewasters Series Premiere (IMDb TV)
A comedy about a struggling four-piece South London jazz band who find themselves transported back to 1920s London. 

14) Trese (Netflix)
Set in a Manila where mythical creatures of Philippine folklore hide amongst humans, Alexandra Trese goes head-to-head with a criminal underworld.

15) Trippin' With The Kandasamys (Netflix)
To rekindle their marriages, best friends-turned-in-laws Shanthi and Jennifer plan a couples' getaway. But it comes with all kinds of surprises. 

16) Wish Dragon (Netflix)
Longing to reconnect with his childhood best friend, resourceful teen Din meets a charming wish-granting dragon who shows him the magic of possibilities.

If you'd like to get this daily feature as an email, subscribe to our free daily "Too Much TV" newsletter here.

I'll be back with another one tomorrow. If you have any feedback, send it along to This email address is being protected from spambots. You need JavaScript enabled to view it. and follow me on Twitter @aysrick.