Here's everything you need to know about the world of television for Thursday, June 10th, 2021. I'm writing this from the Twin Cities suburbs, where AllYourScreens HQ is powered by root beer and Hershey's kisses.

One note about yesterday's newsletter. Yes, I did realize after the fact that I had written Chicago Subs instead of Cubs. Sadly, spellcheck does not help with my natural inclination to make spelling errors that are still somehow a word.

NETFLIX: THE STORE
The NY Times is reporting that Netflix is set to open up an online store featuring merchandise from some of its high-profile original series:

Lupin, the buzzy French crime show about an expert thief, will be front and center at Netflix.shop later this month. In addition to baseball caps, T-shirts, hoodies and sweaters, the Lupin-related merchandise will include throw pillows ($60 apiece) and a side table ($150), all of it designed and produced in collaboration with the Louvre museum.
Two Netflix anime series, Eden and Yasuke, will be featured in the store on its first day. A clock based on the Yasuke character Haruto, created in collaboration with the artist and designer Nathalie Nguyen, is priced at $135.
There is also a Yasuke clothing line, which came about through a collaboration with the streetwear label Hypland and its founder, Jordan Bentley. "He's part of that drop culture, where kids are lining up on Fairfax Avenue in Los Angeles to buy his products," Mr. Simon said.

I don't think even Netflix expects this effort to be a massive future revenue stream. But it's part of the effort by the streamer to build a consumer brand that expands the definition of what it means to be a Netflix subscriber.

FACTOID OF THE DAY
I've been watching some of the Connected TV Advertising Summit today and this data point from Roku stood out from Alison Levin, who is Roku's VP of Global Ad Revenue and Marketing Solutions: "85% of adults 18 to 49 who watched the Roku Channel were completely unduplicated from linear TV. So this is an audience that skews very high to cord cutters"

DAVID SPADE AND THE 'CANCEL CULTURE'
I read a lot of dumb cultural takes from both sides of the political spectrum. And I rarely mention any of them in this newsletter because they aren't the focus of this thing. But this National Review piece is next-level stupid when it attempts to make the painfully bad 1994 movie PCU seem like some bastion of free speech instead of the cringy, unfunny movie that it is:

ATTENTION TWITTER QUALITY CONTROL
It is amazing to me that Twitter is continuing to promote an obviously photoshopped tweet of a non-existent contest from a non-existent truck stop that was put together to virally promote a t-shirt.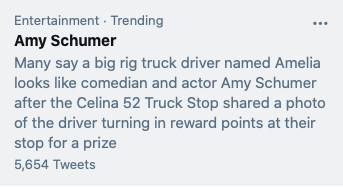 SEXUAL HARASSMENT IN THE SPORTS WORLD
It's been clear for a long time that sexual harassment is rampant in the sports world. From athletes to coaches to sports journalists, if you've ever had a meaningful discussion with a woman who is part of the sports world, the issue inevitably comes up in this "oh, I guess this is the price you have to pay" way. 

ESPNW's Sarah Spain has a powerful new piece about the issue and she argues that too often the institutions of sports only deal with the consequences of harassment once it becomes public. For her and nearly every woman in the industry, it's a relentless problem that hasn't improved and is an indication that the sports world is broken in a very substantive way:

For me, it was an attempt to kiss me during a job interview. Inappropriate questions about my personal grooming and spoken-aloud fantasies about how great the sex we'd have together would be. A comment to a colleague: "If you're not going to try to f*** her, I am." A comment to a prospective boss during a job interview: "I've got an idea for a show. It's a half-hour of Sarah sitting in a chair, me standing over her shoulder staring down at her tits."
A reporter at another outlet complained to a team's PR staff that I must be sleeping with players because they were "giving me better answers." A team PR staffer telling a room full of employees I was a problem because my "boobs are distracting."
I used to say that things seemed to be getting better, but now I know they're only getting better for me. The power and agency I've acquired in the industry over the last decade-plus have made me a pretty dangerous target. But the women just starting out, the ones without a voice, they know the truth. They're going through it, just like I went through it, and the women before me, and the women before them.

It's a really exceptional piece and it's one of the rare occasions when I read something and think "this is someone whose story I want to hear in more depth." Maybe I'm just a dope, but I can't imagine doing these things to a woman I worked with. And because of that, it took me longer than it should have to appreciate the depth of the problem. That's on me and I think in the end the best that any of us can do is to try and be better.

ODDS AND SODS

* EA was hacked. Hackers stole a ton of data, including data from FIFA and Frostbite, the engine that runs other big games like Battlefield. But no player data was stolen, the company says.
* Paramount+ is adding the entire run of the 1990s ABC series The Young Indiana Jones Chronicles tomorrow. Sadly, the episodes probably won't the original "Old Man Indy" wraparounds.

*  New Line Cinema and Warner Bros. Animation are creating a new Lord of the Rings movie. The Lord of the Rings: The War of the Rohirrim will be an anime film that tells the "untold story behind the fortress of Helm's Deep"

TODAY'S PREMIERES 
1) Alan Saldana: Locked Up (Netflix)
Mexican comedian Alan Saldana is back, poking gentle fun at himself and parceling advice, especially about how to stay married and how to be parents.

2) Fatal Fiance (LMN)
Bride-to-be Leah is kidnapped on her own wedding day. But the kidnapper says she's only trying to save Leah from making a huge mistake.

3) Lethal Love Letter (LMN)
A surprising letter leads Amelia to rekindle a relationship with a handsome ex-boyfriend. But did the letter writer have secret, sinister motives?

4) Locombianos (Netflix)
Four of Colombia's funniest and bawdiest comedians perform before a post-quarantine audience hungry for their stories.

5) Moloch (Sundance Now)
In an industrial, labyrinthine seaside town, strangers burst into flames for no reason. Suicides? Murders? Supernatural phenomena? To find out, Louise (Marine Vacth), an ambitious and unstable young journalist, and Gabriel (Olivier Gourmet), a brilliant psychiatrist mourning his son, will lead the investigation.

6) Myriam Fares: The Journey (Netflix)
From pregnancy to album preparations, Lebanese singer and "Queen Of The Stage" Myriam Fares documents her experiences with her family while in lockdown.

7) Reunion Road Trip Series Premiere (E!)
The four-part special event series catches up with the beloved cast members as they reconnect with old friends, reflect on their trailblazing shows that helped shape the television landscape, and share surprising revelations and behind-the-scenes scoop. With exclusive, candid conversations with the stars as viewers have never seen them before, each episode delves into their earliest days from auditions to first impressions, their continuing legacy and everything in between.

8) Summertime Season Two Premiere (Netflix)
Two young adults from very different backgrounds fall in love during a summer on Italy's Adriatic Coast. Inspired by Federico Moccia's book series.

9) Trese Series Premiere (Netflix)
In Manila, where dark supernatural forces prevade the criminal underworld, it's up to Alexandra Trese to keep the eace-but there's a storm brewing.

If you'd like to get this daily feature as an email, subscribe to our free daily "Too Much TV" newsletter here.

I'll be back with another one tomorrow. If you have any feedback, send it along to This email address is being protected from spambots. You need JavaScript enabled to view it. and follow me on Twitter @aysrick.