Longtime NBC News anchor Matt Lauer has been fired.
"Today Show" co-anchor Savannah Guthrie made the announcement at the top of Wednesday's show. She read a memo which had just been sent to NBC employees by NBC News president Andrew Lack: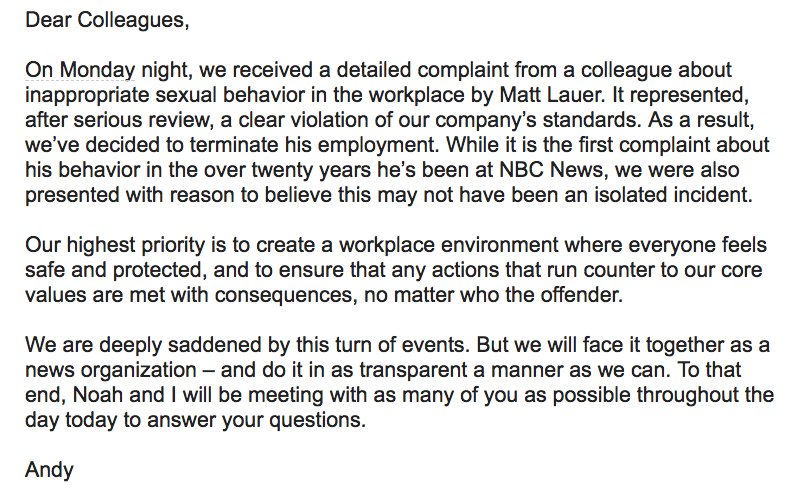 A visibly shaken Guthrie told viewers that she and others on the show were heartbroken. Both for Lauer - whom she considered a friend - and for the "brave woman who came forth with the allegations." She also said she knew no other details other than what was in the memo, but that the show would report more about the story as details became known in the upcoming days and weeks.

CNN's Brian Stelter reported Lauer had been informed of the decision late Tuesday night, but Guthrie wasn't told until just before she went on the air Wednesday,
Lauer had been at "The Today Show" since 1997 and in 2016 signed a new two year contract worth about $20 million a year.
The news comes a week and a half after rival show "CBS This Morning" found itself in a similar situation with co-host Charlie Rose. On Wednesday, female hosts Gayle King and Norah O'Donnell noted the de ja vu nature of the situation now happening at "The Today Show."

On MSNBC's "Morning Joe" show, host Joe Scarborough noted that stories of sexual misconduct seem to be working their way from sector to sector and he predicted that "some giants in the tech sector are next."
While the firing might seem to have come out of nowhere to many fans of the show, rumors of possible sexual misconduct from Lauer had widely circulated in media circles. New Your Magazine reporter Yashar Ali noted the rumors on Twitter Wednesday morning:
"I, and other reporters , have been aware of several women who have come forward privately  in the past few months ...even before Weinstein. They weren't willing to go public though...they were terrified of Matt."
In fact, the rumors were widespread enough that both Variety and the New York Times had reportedly been working on stories of the allegations. The Variety piece has apparently been nearly two months in the making and speculation is that the upcoming stories prompted NBC to make the move before the stories were published.

Variety's New York Bureau chief Ramin Setoodeh confirmed the investigation on Twitter Wednesday:

For the last two months, @EWagmeister and I have been reporting on a story about serious sexual harassment allegations against Lauer. There were multiple victims.

President Trump also weighed in on the story, with a tweet that includied a comment about Joe Scarborough, host of MSNBC's "Morning Joe":

So now that Matt Lauer is gone when will the Fake News practitioners at NBC be terminating the contract of Phil Griffin? And will they terminate low ratings Joe Scarborough based on the "unsolved mystery" that took place in Florida years ago? Investigate!

Late Wednesday morning, NBC News Chairman Andy Lack held a conference call with staff in which he discussed the move. According to New York Magazine's Yashar Ali, Lack said he had not spoken to the woman who had come forward with allegations against Lauer. He also told staff he had "nothing to tell, nothing to hide, when asked about an earlier tweet from Donald Trump:

Wow, Matt Lauer was just fired from NBC for "inappropriate sexual behavior in the workplace." But when will the top executives at NBC & Comcast be fired for putting out so much Fake News. Check out Andy Lack's past!
Meanwhile, during the 10:00 a.m. ET "Kathie Lee & Hoda" hour of "The Today Show," co-anchor Kathie Lee Gifford called it a "sad, sad day" for NBC. "I don't feel that Matt has betrayed us in any way at all but when I found out that my husband had betrayed me, you question your own judgment. You say, 'Was everything a lie?' And I think we have to very much fight against that, that the man we know and adored was the man we loved and adored and continue to. I texted him this morning and said, 'I adore you.' No person is perfect in this world. ... And what we need now is forgiveness and mercy for one another."
More updates coming....