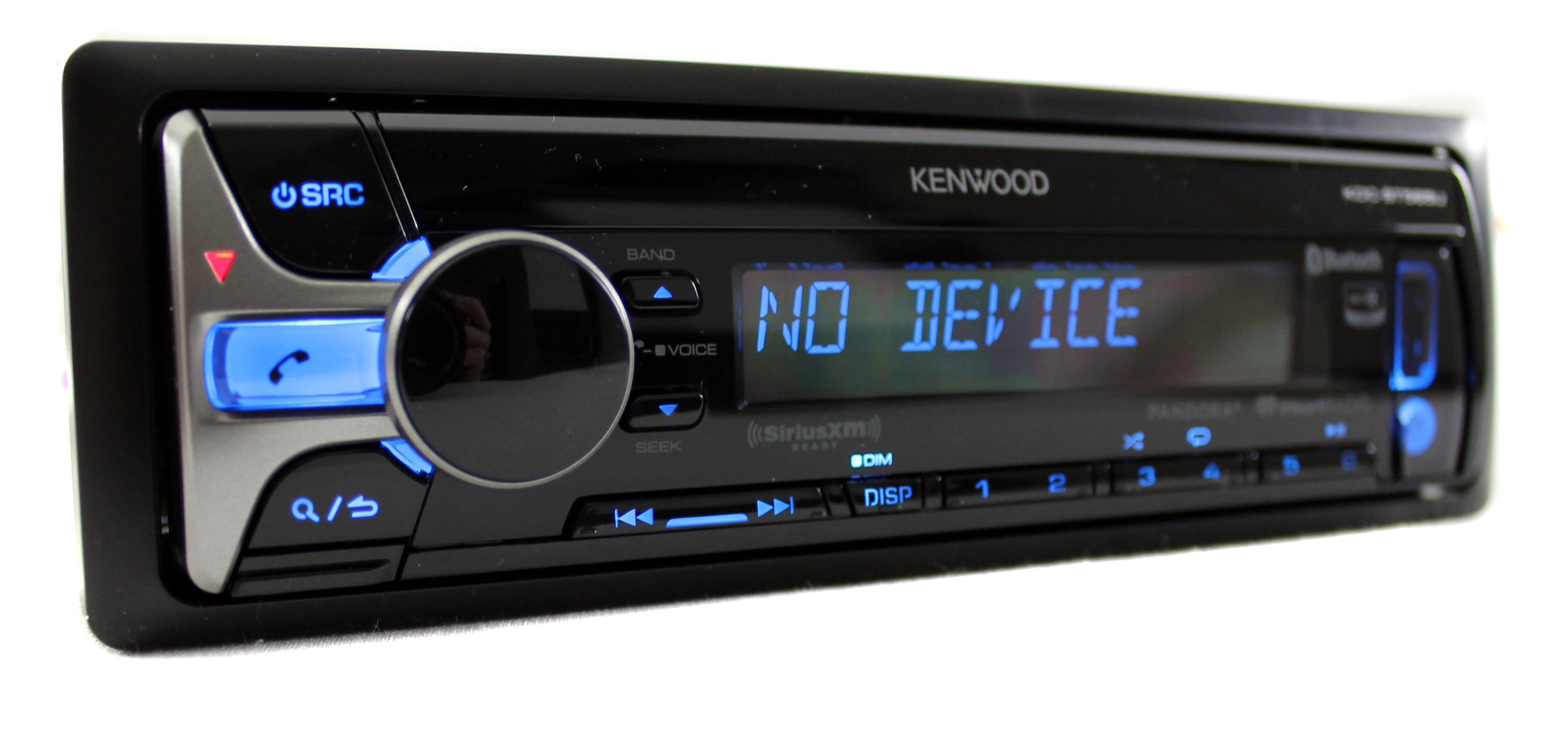 Technology is improving so quickly right now that just about any electronics purchase can seem overwhelmingly complex. That's especially the case with car electronics, such as a digital media receiver. I mean, what does that even mean? And what should you know before you purchase one? I'll try and walk you through the options and suggest some of the best choices out there.

First of all, a digital media receiver is basically just a fancy stereo. The main difference between old school car stereos and these new receivers is that they're designed to integrate with all sorts of other electronic devices. So the best digital media receivers include everything from USB ports to a place to plug in and charge your phone or iPod.So what type of inputs do you need in a digital media receiver? Let's run down some of the options:

USB inputs are a must since you can put a lot of music on a USB thumb drive and plug it into the receiver when you get in the vehicle. But pay close attention to where the USB ports are located on the receiver because some of them are placed in spots that make them very inconvenient to use. Some people prefer SD cards and many receivers to include an SC card slot, although they are becoming increasingly uncommon in newer models.

If you're one of the people who have most of your music on your phone, then you'll want a digital media receiver with Bluetooth connectivity. That allows you to stream your music via Bluetooth directly from your phone to the receiver. It sounds great and one big advantage is that you don't need to mess with wires or external storage devices.

iPhone and iPods are designed to make it easy to find and play your music, especially when using the voice-activated Siri. Nearly all premium digital receivers include iPhone and iPod controls, which allows you to effortlessly stream and choose music as you drive. You'll also want at least one auxiliary input, although two is better. The standard minijack auxiliary input can be used to plug in an external player, satellite radio or another device. But it's important to consider whether you want the input in the front of the player or in the side or back. The former is much easier to use, but some people prefer to have the input more hidden in order to provide a cleaner look.

There are a few other features to consider when looking at digital media receivers. If you are interested in satellite radio, you want a receiver that offers that option. It's the same with HD radio, although nearly all new media receivers include that option. And if you have an Android phone, you'll also want to make sure the receiver includes support for Android devices.

Once you've thought about the options, it's time to choose the best digital media receiver for you. We've highlighted what we consider to be the best overall picks, the best pick for the money and some other choices you should consider. 
Single DIN Digital Media Receivers 


 Our Pick: Pioneer DEH-80PRS Receiver with 3-Way Active Crossover Network 

If you're looking for audiophile-level sound in a unit that is still affordable and easy-to-use, this Pioneer receiver is the best choice. The sound is super crisp and clear  andi ts technology can tune itself to the space where it's installed by listening back to the sound through its speakers. The ASL also hears outside noise dynamically and adjusts each sound frequency to cancel external noise. There are numerous settings to perfectly tune the receiver and the integrated processor and graphic spectral analyzer allow you to customize everything just the way you want. It includes the typical range of options, including Bluetooth integration, multiple USB, and SD slots as well as hands-free microphone and several auxiliary inputs. 

The faceplate is detachable and the menus, colors and other graphics can be customized as well. When combined with a good set of speakers, this receiver will deliver as good of an audio presentation as you'll hear in anything but the most expensive units. But despite all the bells and whistles, this Pioneer unit is a snap to install. It plugs right into a standard receiver space and the harnesses and easy to connect and tuck out of the way. Pretty much everything about this unit is top end and it all comes at a reasonable price. 


Bang For The Buck: Alpine CDE-143BT Advanced Bluetooth CD Receiver

This receiver hits the sweet spot between cost and features. It has a full suite of features, including Bluetooth compatibility, which allows you to stream music from any compatible device. There's a built-in MOSFET amplifier that can give a boost to the entire audio system and an app mode that allows you to control music apps from the receiver. The unit has a simple, sexy look and even better, a detachable faceplate that helps to deter theft. EQ adjustments are quick and easy and it's a good choice if you're looking for an easy upgrade to your existing receiver. 

It easily fits standard-sized receiver slots and installation is super easy. If you're planning on using a USB thumb drive to listen to music, this is a great choice. The USB slot is in the perfect spot and unlike many units, there is no lag when the music is streaming off the drive. If you plan on making hands-free phone calls, there is a microphone which attaches to the steering column. If there's one downside of the unit, is that it doesn't automatically pair with Bluetooth every time you enter the vehicle. It's a minor quibble and not at all a deal-breaker. But one to keep in mind if you're easily annoyed. 




Also Great: Pioneer MVH-X390BT Vehicle Digital Media Receiver

If you like the features of the pricier Pioneer DEH-80PRS Receiver, but want to save some money, this is a solid pick. It has built-in Bluetooth and USB direct control for iPod/iPhone and some Android phones. It also has Pioneer ARC (Advance Remote Control) app compatibility, which allows you to control many playback and audio functions remotely. The unit comes with a microphone for hands-free calling, which can be installed anywhere in the vehicle. 

Unlike some of the more expensive units, there is no built-in CD player, but that is less of an issue and the upside is that it makes the receiver more affordable. The audio controls are functional, if not expansive. There's a general equalizer and also a bass booster. If you add an optional amp and/or sub woofer, the receiver will also control those as well. The faceplate is slick and easy-to-read. There isn't a separate dimmer switch for the display, but the display dims automatically based on the time of the day. A really solid starter receiver which works especially well in older vehicles. 




Also Great: Sony DSXA405BT Digital Media Receiver 

If you spend a lot of time listening to Pandora and/or satellite radio, this is a good choice for you. The receiver is SiriusXM satellite radio ready and it has Pandora integration for iOs and Android. The USB is in the front and it supports a wide range of file types for playback, including MP3/WMA/WAV/FLAC. While it doesn't have the audio range of some of the pricier units, it includes a lot of conveniences for the casual listener. Including a wireless remote, steering wheel control input and 2-Volt rear and sub-RCA preamp outputs. Matched up with Bluetooth compatibility and one-touch listening with NFC technology, this receiver couldn't be easier to use. 




Top Of The Line: Pioneer DEX-P99RS Stage 4 Reference Series CD Receiver 

If you're looking for a top-end digital receiver that can give you audiophile quality on the go, this is the one you'll want to buy. Precisely control the sound with dual L/R independent 31-Band equalizers, as well as auto EQ. The mix can be adjusted with 1/3 octave steps from 20 Hz to 20 kHz and five different setups can be saved. The digital sound processor is about five times faster than previous models and you'll notice impressive high-frequency ranges. 

It only makes sense to buy this if you match it up with equally high-end component speakers, amps, and sub-woofers. But if you make the investment, you'll have a system that is as good as anything available. While it might not make sense to just sit in your driveway and listen, this receiver will make you want to give it a try. 




Top Of The Line: Sony RSXGS9 Hi-Res Audio Media Receiver

This high-resolution audio compatible receiver offers wide codec support and ESS DAC chip processing. which in plain English means it provides optimum quality from all your digital music files, with DSEE HX upscaling that restores compressed files for a more impressive sound. There is integrated Bluetooth connectivity with instant USB streaming of recorded video. The result is a staggeringly life-like sound. The separation of instruments and sounds in your vehicle will really make it feel as if the entire band is playing in front of you. The downside is that anything less than a high-end speaker and amp system will sound empty and dull when using this amazing digital media receiver.

Double DIN Digital Media Receivers: 




Our Pick: Sony RSXGS9 Hi-Res Audio Media Receiver 

Sometimes you don't just want a receiver that sounds great - you also want one that looks amazing. This Sony receiver has a simple, sleek look that almost looks like a modern-day work of art. But it also has all the bells and whistles you'd expect to see in a high-end digital media receiver. It has a dual-level rigid chassis that means less vibration and rattling, even at the loudest audio levels. This high-resolution audio receiver supports wide codecs and DSEE HX upscaling means every file will sound as if was playing right off of the master tape. 

This Sony receiver has all the features you would expect to see, ranging from Bluetooth and USB integration and smartphone charging. This stylish faceplate is made of durable 14mm aluminum, with a white OLED display. And of course the faceplate can be removed to help with theft prevention.




Bang For The Buck: Pioneer DVH-885AVBT In-Dash DVD/CD/AM/FM/Digital Media Car Stereo Receiver 

For a mid-range receiver, this Pioneer unit offers a lot of extras. There's a responsive touchscreen faceplate as well as integrated DVD and CD players. The Bluetooth connectivity provides easy hands-free calling and streaming of music from your phone. The receiver hooks up to any existing back-up camera and it can be controlled by any vehicle that has an Axxess steering wheel control module. The screen dims automatically when you turn on your headlights and a micro bypass feature allows for DVD playback and the dial pad function while the vehicle is in motion. This is a great overall choice, but it's especially useful in larger family vehicles.




Also Great: Kenwood DDX23BT Monitor Receiver 

The best feature of this receiver is its 6.2-Inch wVGA touchscreen monitor, which the largest screen available in its price point. It has one port for a front or rear camera, Bluetooth support and it is SiriusXM ready. It doesn't include a wireless remote, but its 13 band EQ's offer up an impressive sound. It has a USB port, although there is a limit on the size of thumbdrive it will recognize. There's embedded GPS with traffic integration and easy to use interface. It's an older model than some of the receivers listed here, but that mostly means you'll get more receiver for the buck. 




Top Of The Line: Alpine INE-W957HD Navigation receiver

If you love a high-tech look combined with the latest technology, you'll love this amazing high-end receiver. The Alpine 7" touchscreen includes an In-Dash GPS Navigation Receiver with a Navigation system pre-loaded with NAVTEQ map data. You get Pandora integration and SiriusXM compatibility and ability to control everything either through the touchscreen or via an Apple iOS device. There is an integrated DVD player and an input that can be used with a back-up video camera. The interface is intuitive but it's also extremely complex, which may or may not be what you're looking for. But overall, it's hard to find a more impressive digital receiver at any price.