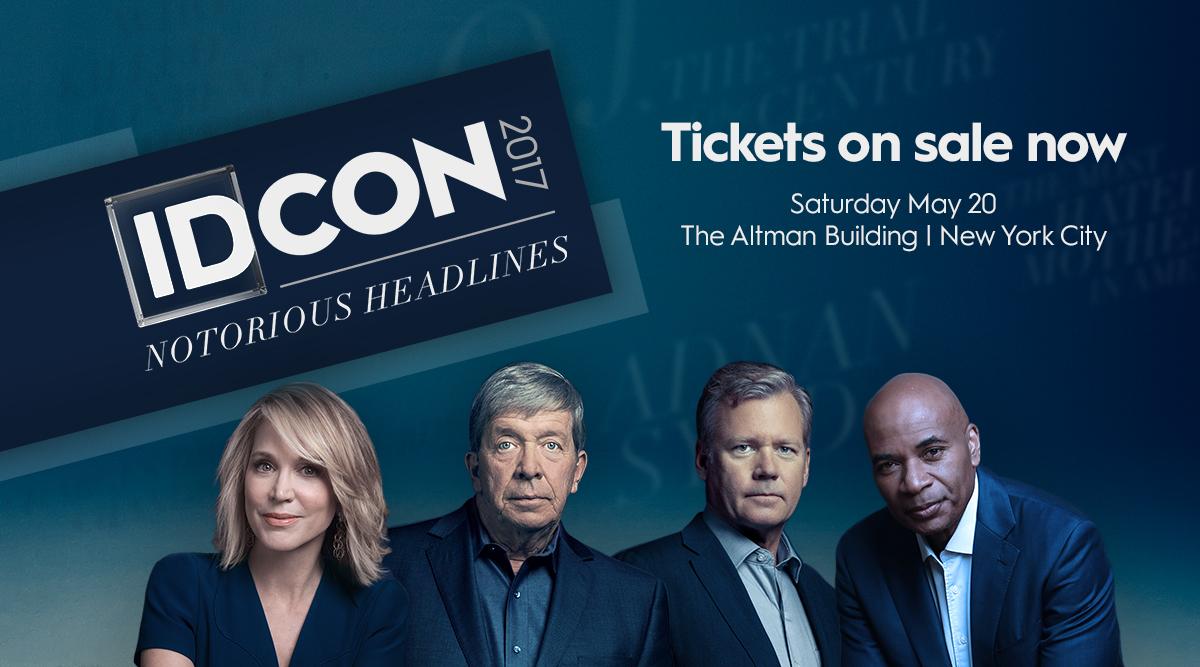 MY first writing job online was working for a company that ran some of the forums on Compuserve. I spent much of my time in the television forum, but also spent part of my day moderating a true crimes forum that was one of the most popular groups on the service. I quickly learned that true crime fans are a special breed. They'll spend hundreds of hours dissecting the smallest details of a crime, arguing about the case and trying to explain just what happened and why. It opened my eyes to just how popular that community is and how surprisingly social the true crime genre can be.

So it's no surprise to me that the Investigation Discovery network has become a success or that the network would realize hosting a convention dedicated to its stars and programming was a very smart idea.

The second annual IDCon, described as "the ultimate Investigation Discovery fan experience," is set to take place on Saturday, May 20 from 10am to 5pm in New York City. Attendees will get the chance to meet some of their favorite ID stars, see exclusive clips from shows and experience one-of-a-kind immersive activities. This year, the focus is on Notorious Headlines and the experts who've worked on the cases that captured the nation. 

"IDCON was created as a thank you to our passionate fans, and our inaugural IDCON last year just 'killed,' selling out in less than eight hours with more than 7,000 people on the waitlist!" said Henry Schleiff, Group President Investigation Discovery, American Heroes Channel and Destination America, in a press release announcing IDCO. "Our self-proclaimed 'ID Addicts' have now made ID the #1 network for women, so we are particularly excited this year to deliver these superfans this unique opportunity to go behind the scenes and meet their favorite ID stars." 

Once again, fans will have exclusive access to intimate discussions and Q&A with their favorite ID personalities, hearing from distinguished journalists such as ON THE CASE's Paula Zahn, KILLER INSTINCT's Chris Hansen, SCENE OF THE CRIME's Tony Harris, Maria Elena Salinas from the upcoming series REAL STORY as well as the editorial team from PEOPLE MAGAZINE INVESTIGATES. Fans will also have access to the network's most popular homicide detectives -  HOMICIDE HUNTER Joe Kenda, I AM HOMICIDE's Garry McFadden and MURDER CHOSE ME's Rod Demery. Additional featured talent and panel information for IDCON to be released at a later date.
AllYourScreens will be providing updates on what to expect as IDCon draws closer, but tickets are limited. So click here to order your tickets, which only cost $40.

All proceeds from IDCon ticket sales will be donated to New York's Silver Shield Foundation, an organization which provides educational support to families of firefighters and police officers killed in the line of duty. Visit www.silvershieldfoundation.org to learn more.
Stay tuned for more....