Here's everything you need to know about the world of television for Thursday, September 17th, 2020. I'm writing this from the Twin Cities suburbs, where AllYourScreens HQ is fasting until I get blood work done later today. And my apologies for the lateness of today's newsletter. I did a session this morning for the Twin Cities Start-up Week about what it takes to monetize a smaller news site & while it was fun, it threw off the rest of my day.

DISCOVERY'S SVOD SERVICE IS STILL ON ITS WAY
Discovery, Inc. chief David Zaslav spoke Thursday morning at the Goldman Sachs Communacopia and looking over his comments, the thing that jumped out at me is that he doubled down on the idea of Discovery launching a pay streaming service. On one hand, it makes a lot of sense. Discovery owns thousands of hours of original content, including a ton of catalog stuff. They have spent the past couple of years signing key talent to new comprehensive deals that include everything from traditional linear television to web video and original streaming service.

Zaslav says the new service will have a lot of new, original content. But there are still a lot of open questions. In the Communacopia interview, he admitted the new service still hadn't negotiated deals with several key platforms (I'm guessing Roku and/or Amazon). And there's no price point or estimated launch date. And he was a bit vague on whether or not Discovery was still planning on launching the stand-alone Magnolia streaming service that is supposed to be part of the new Chip and Joanna Gaines Magnolia cable channel.

It's worth noting that Discovery currently does a similar multi-tier approach with its Motor Trend channel. It exists as a traditional linear channel. But the channel also pushes people to a subscription-based Motor Trend streaming service, which includes extensive VOD offerings as well as original programming.

In the end, one advantage Discovery has over some of its larger competitors is that it will have a much easier time rolling out the service internationally. The company already has extensive global production units and it has locally-produced content already in place in a number of major territories.

WHY COMCAST & AT&T ARE LUKEWARM ABOUT THEIR TRADITIONAL PAY TV BUSINESS
NScreenMedia has a good look at why Comcast & AT&T are ambivalent about their pay TV business, even though between them they currently have 35 million subscribers:

Why are both companies so indifferent to their still large MVPD services? Simply put, they make them no money. Margins have eroded dramatically, thanks to the ceaseless demands for higher license fees from TV programmers. For example, at Comcast, the amount of video ARPU going to pay for programmer fees has increased from 52.4% to 61.8% in just five years.




ABOUT THOSE SPORTS RATINGS
FrontOfficeSports.com has a recap of the ratings for the first week of the NFL season and while it's too early to declare any trends for the year, the numbers are lower year-to-year:

The carnage was worse for ESPN's "Monday Night Football" cable TV doubleheader, featuring the Steelers-New York Giants and Denver Broncos-Tennessee Titans games.
Despite the popular college football announcing duo of Kirk Herbstreit and Chris Fowler calling their first NFL game in 25 years, ESPN's Steelers-Giants telecast averaged 10.8 million viewers, down 18% from last year's comparable early game. 
The later Broncos-Titans game fared even worse, with average viewership plunging 27% to 7.7 million viewers. That telecast also had the curiosity factor of introducing ESPN's latest "Monday Night Football" booth team of Steve Levy, Louis Riddick, and Brian Griese.
Still, Steelers-Giants was cable TV's most-watched sporting event since January. The annual doubleheader helped ESPN win the night. The Disney-owned network was the most-watched network in primetime Monday night across broadcast and cable TV.

ODDS AND SODS
HBO Max has ordered a second season of the Ridley Scott sci-fi drama Raised By Wolves. In the press release announcing the deal, HBO Max notes that the audience for the show has increased by 50% week-over-week. Of course, there's no way of knowing what that means in actual viewers. But it does at least imply that people are discovering the show. New episodes of the series premiere each Thursday on HBO Max and the season one finale is on October 1st.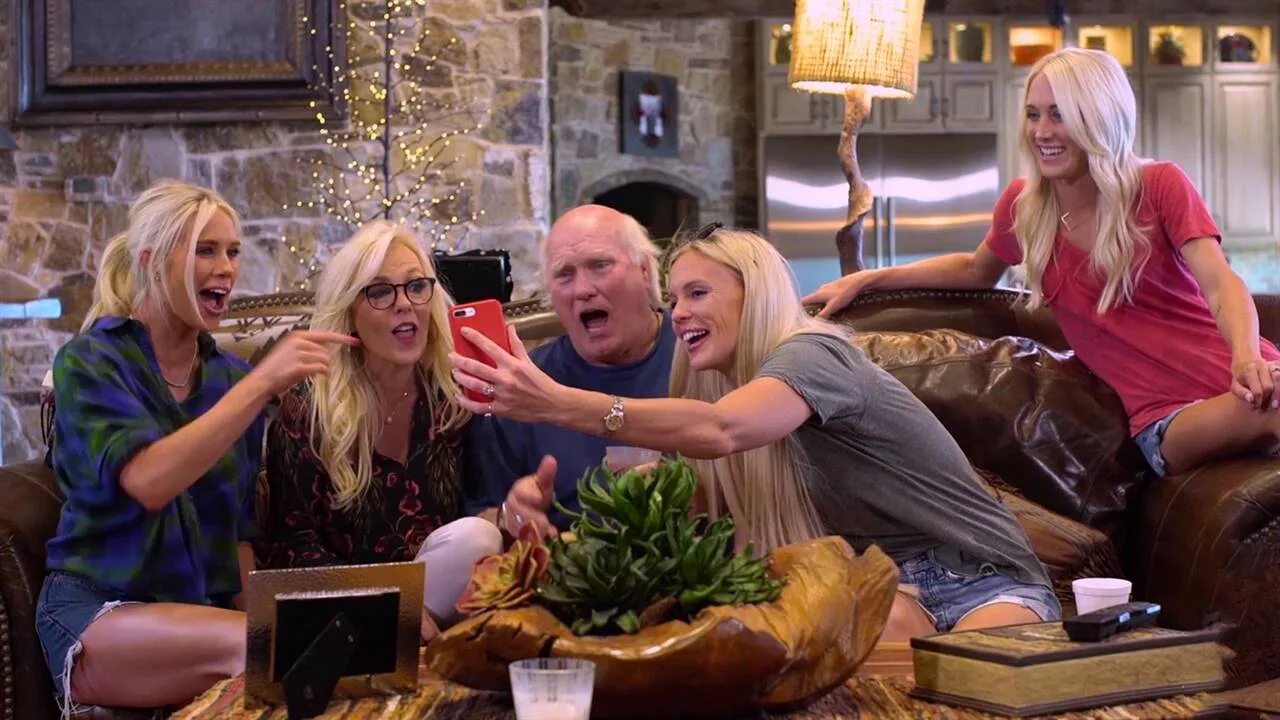 Here is a rundown of the new television programs premiering today:
1) Bradshaw Bunch Series Premiere (E!)
Legendary quarterback and television-broadcast icon Terry Bradshaw gives us an intimate look at life in the off-season. He's been called "The Greatest of All Time," but now this touchdown titan spends his days surrounded by women in his most coveted position: World's Greatest Dad. As husband, father and "Papi" to the Bradshaw Bunch, Terry hilariously helps his family navigate the pitfalls of their extraordinary lives and lets you in on a side of Terry Bradshaw you've never seen before!

2) Departure Series Premiere (Peacock)
Passenger plane Flight 716 shockingly vanishes, and brilliant investigator Kendra Malley (Archie Panjabi, The Good Wife), alongside her mentor Howard Lawson (Christopher Plummer, Knives Out) are brought on to lead the investigation. When battling forces threaten to undermine their work, Kendra must find the truth and stop it from happening again. The series also stars Kris Holden-Reid (Umbrella Academy), Rebecca Liddiard (Run This Town), Tamara Duarte (Longmire), Mark Rendall (Versailles), Peter Mensah (Midnight, Texas) and Sasha Roiz (Suits).

3) Dragon's Dogma Series Premiere (Netflix)
Resurrected as an Arisen, Ethan sets out to vanquish the Dragon that took his heart, but with every demon he battles, the more he loses his humanity.

4) Flipping 101 With Tarek el Moussa Season Premiere (HGTV)
The season kicks off with a young couple who bought a century-old Craftsman-style house sight unseen. To help them attract buyers and make top dollar on the sale, Tarek must convince the couple to install a proper garage instead of a party room. He also recommends they do whatever they can to keep the property's historic charm in lieu of a too-modern layout. Despite dramatic ups and downs and twists and turns, Tarek's expertise could lead to smart design decisions and a favorable realtor commission rate that keeps them from losing out on their investment. Throughout the season, Tarek helps more rookie flippers navigate challenging home renovations, including a property that catches fire mid-reno, a high-dollar home where reno costs blow the budget and a house previously inhabited by animal hoarders.

5) Gims On The Record (Netflix)
Go backstage with the beloved rap superstar Gims in the year leading up to his major 2019 Stade de France peformance in this up-close documentary.

6) Mo Willems And The Storytime All-Stars Present: Don't Let The Pigeon Do Storytime! (HBO Max)
This first Storytime special, shot at the Kennedy Center, includes live readings and sketch comedy by celebrities including Anthony Anderson (black-ish), Yvette Nicole Brown (Community), Rachel Dratch (Saturday Night Live), Cameron Esposito (Take My Wife), Tony Hale (Veep), Greta Lee (Russian Doll), Tom Lennon (The Odd Couple), Natalie Morales (Abby's) and Oscar Nunez (The Office).

7) One Lane Bridge Series Premiere (Sundance Now)
This New Zealand crime thriller follows ambitious young Māori detective, Ariki Davis (Dominic Ona-Ariki, The Commons), who arrives in Queenstown with high hopes for his future. When local legend Grub Ryder is found dead at the bottom of the infamous One Lane Bridge, Ariki joins the investigation led by his boss, respected stalwart, Detective Senior Sergeant Stephen Tremaine (Joel Tobeck, The Luminaries). During the investigation, Ariki inadvertently unlocks his Matakite – a supernatural ability akin to second sight that he hasn't experienced since his youth. As ONE LANE BRIDGE twists and turns and the pressure to solve the crime heats up, Māori metaphysics collides with Southern Man scepticism and Ariki's spiritual gift threatens to endanger the case, his career and his life. And at the centre of it all sits the mysterious One Lane Bridge, a historic Queenstown landmark synonymous with murder, suicide and fatal accidents. Grub's death wasn't the first. And it won't be the last.

8) Residue (Netflix)
A young screenwriter returns to his hometown to write a script base on his childhood and discovers his neighborhood has been gentrified.

10) The Great Pottery Throw Down Series Premiere (HBO Max)
Seeking to unearth Britain's best home potter, each season of the series follows ten potters as they forge fantastic creations in a competition-style format. At the conclusion of each episode, one potter faces elimination after the judge's scrutiny and review for the chance to become Potter of the Week.

11) The Last Word Series Premiere (Netflix)
In the aftermath of her husband's death, a woman unexpectedly finds a new source of energy and a lust for life – as she becomes a professional eulogist to the surprise of her family and friends.

TOO MUCH TV REALLY IS A THING
This newsletter is called "Too Much TV" because....well, it's hard to keep track of all the new television premiering everyday. To help you prioritize your viewing, click here to see our list of more than 400 upcoming television premieres, movies and finales. You'll find listings from more than 70 networks, as well as streaming services and web shows.

If you'd like to get this daily feature as an email, subscribe to our free daily "Too Much TV" newsletter here.

I'll be back with another one tomorrow. If you have any feedback, send it along to This email address is being protected from spambots. You need JavaScript enabled to view it. and follow me on Twitter @aysrick.