Here's everything you need to know about the world of television for Monday, February 22nd, 2021. I'm writing this from the Twin Cities suburbs, where AllYourScreens HQ is powered by coffee and oranges.

My apology for the lack of a newsletter at the end of last week. I was dealing with some health issues that kept me mostly offline for a few days. As much as I love being a one-man band, the downside is that when I'm out of commission, so is the web site and this newsletter. Thanks for being patient.

THE STORY TO WATCH WITH DISCOVERY+ ISN'T IN THE SUBSCRIBER NUMBERS
Discovery Inc released its Q4 and 2020 financials early Monday morning and the takeaway that is getting the most attention is the topline subscription numbers: more than 11 million streaming subscribers globally.  A lot of other people are going to be parsing those numbers today, so I want to focus on another related issue. 

Readers of this newsletter know that I've been arguing since Discovery+ launched that this streaming service is more than just a place to park Discovery Inc.'s massive catalog, along with a few scattered originals. It's clear that in the U.S., Discovery sees its streaming service as the future of the company and it is devoting an enormous amount of resources to the effort.

First, there are the originals.  Between yesterday (Sunday) and this coming Thursday, Discovery+ is launching six new original shows plus an original documentary. And that's been a pretty typical pace for the service since it launched. The programs lean heavily on familiar linear programs and personalities. For instance, this week's premieres include two new spin-off shows from TLC's popular 90 Days franchise (90 Days: The Single Life, 90 Days: Pillow Talk), a reboot of an older HGTV competition series (Design Star: Next Generation) and a cooking series featuring the Ludacris (Luda Can't Cook). Recent weeks have seen shows moving to Discovery+ that previously had aired on linear television, including the Food Network's Good Eats reboot.

And then there are all of the more subtle efforts to make Discovery+ a "must have" for a fan of any of the Discovery Inc. networks. Some popular shows such as HGTV's Property Brothers premiere on their linear home network, but streaming of the current season is only available on Discovery+. No on-demand, no TV Everywhere app. Some new linear TV shows are also receiving extended bonus versions that are only available on Discovery+.

All of which leads me to doubledown on my original thesis: while Discovery Inc. still wants to retain its linear TV partners and keep that subscriber money coming in, it sees the future as streaming and the company will do everything in its power to carve out a spot for itself in that future. 

And what does that future look like? I wouldn't be surprised to see an expanded relationship between the A&E Networks and Discovery+. And while I'm not convinced they can make the logistics work, adding content from semi-rival Hallmark would be a natural fit for Discovery+

DID ADDING 'THE OFFICE' TO PEACOCK HELP GROW SUBSCRIBERS?
The measurement and analytic company Antenna has some interesting data points on the impact adding the entire run of The Office had on Peacock. The series had moved to the service from Netflix, where it had been available for six years. 

As you might expect, the popular comedy did drive some subscription growth, according to Antenna:

Peacock earned more paid Sign-ups around The Office's arrival than it did for its nationwide launch, or any programming event, including the start of the Premier League. 

In the first two weeks of January, Peacock saw a 9 percentage point uptick in customers choosing the Premium Plus ($9.99/mo) plan, which like Netflix, allows ad-free viewing to all nine seasons of The Office.

And while a few people did drop Netflix and follow the show to Peacock, the loss of the series basically didn't have much of an impact on Netflix:

There was no meaningful impact on Netflix Churn amongst Subscribers that made a TVOD purchase for The Office – as these customers likely treated the one-time transaction as a supplement to their Netflix Subscription.

On the other hand, Netflix Subscribers that did Sign-up to Peacock in January 2021 showed a 4.7 percentage point increase in Churn vs. those that did not add Peacock – meaning that a portion of users did cancel Netflix, as they followed The Dunder Mifflin crew to Peacock.

However, <1% of Netflix Subscribers Signed-up to Peacock, so overall Churn Rate for the service was not materially impacted.

ANOTHER BAD YEAR FOR MVPD AND VMVPD SUBSCRIPTIONS
Now that Dish has reported the last of its subscriber numbers for 2020, Variety's Andrew Wallenstein passed along this chart from Variety+, which shows a continuing year-on-year decline :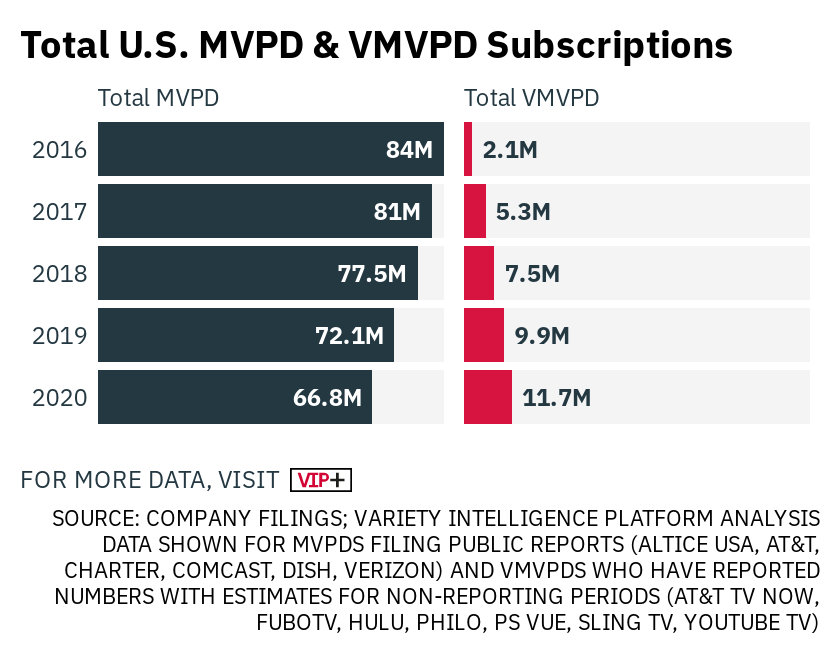 ODDS AND SODS
I just posted this piece, which on a slower day might have debuted in the newsletter: "Can True Crime TV Help With America's Cold Case Problem?"




TODAY'S PREMIERES
1) Beartown Series Premiere (HBO)
This new drama  centers on a floundering community in Sweden that places its dreams of revitalization on the teenage shoulders of its junior ice hockey team. Boosted by their new professional-athlete-turned-coach Peter (Ulf Stenberg) and rising star Kevin (Oliver Dufåker), the boys finally have a shot at securing a national title – until a violent act threatens to destroy Beartown entirely. Chilling and honest, the series explores family trauma, teenage romance, truths and lies, actions and consequences, and ultimately, the courage it takes to go against the group and stand up for justice. 

2) Red (Netflix)
A murder investigation leads police to a photo of a suspect, but when two men are found with faces that match the picture, the case gets doubly tricky.

3) Social Society Series Premiere (ALLBLK)
A one hour sketch comedy variety show bringing some of your favorite "instafamous" sketch comedians together for laughs, live performances, and the latest in today's entertainment news. Each week, viewers will tune in to watch Kendall Kyndall give his take on the week's entertainment highlights, life hacks, and social media buzz.

4) Spring Baking Championship Season Premiere (Food)
It's a breath of fresh spring air as host Ali Khan welcomes 11 talented bakers and challenges them to create stunning and delicious spring treats for the chance to be crowned Spring Baking Champion and win the $25,000 grand prize. The bakers must impress judges Kardea Brown, Nancy Fuller and Duff Goldman in fun and fanciful spring challenges, creating everything from dancing cow cakes and leaping leprechaun desserts to spring proposal plates and hot cross bunnies.

This newsletter is called "Too Much TV" because....well, it's hard to keep track of all the new television premiering everyday. To help you prioritize your viewing, click here to see our list of more than 400 upcoming television premieres, movies and finales. You'll find listings from more than 70 networks, as well as streaming services and web shows.

If you'd like to get this daily feature as an email, subscribe to our free daily "Too Much TV" newsletter here.

I'll be back with another one on Monday. If you have any feedback, send it along to This email address is being protected from spambots. You need JavaScript enabled to view it. and follow me on Twitter @aysrick.