Here's everything you need to know about the world of television for Tuesday, December 15th, 2020. I'm writing this from the Twin Cities suburbs, where AllYourScreens HQ is powered by coffee....coffee....and coffee.

I'M NOT SAYING THIS IS THE DUMBEST TAKE I'VE READ TODAY...BUT IT'S IN THE TOP TWO
One of the worst trends in online entertainment journalism in recent years are these takes that aren't "hot" takes per se. They don't stake any real controversial opinion, but instead are crafted to get passed around a lot, even if the virality of it is mostly readers dunking on it.

Verge posted a piece this morning entitled "A Year Without Marvel Movies Left A Pop Culture Void," and it as massively stupid as you might expect it to be. Sure, lots of terrible things have happened in 2020, but this guy's moaning over the fact that there wasn't a MCU movie released this year. Worse, he conflates the experience of sitting in a movie theater with the joy that is Marvel, in a way that only magnifies the fan-boyish quality of the piece:
In a year where I feel more disconnected from people than ever, where I'm searching for community from the confines of a tiny studio apartment, not having that quintessential part of normalcy — sitting in a theater and watching the couple of Marvel movies that come out every year — feels enormous.

The absence of Marvel movies is the absence of a very specific kind of excitement. Living within the confines of our new normal for the last 10 months means trying to find little things to look forward to every week. A new show on a streaming service helps or a Zoom catch-up with family who can't visit. But it doesn't replace the physicality of community or the excitement of leaving home to experience something people may have been waiting on for several months. In 2020, a year filled with death and travesty at the worst of times and mindless boredom at the best of times, the absence of unbridled anticipation was tough to swallow.

Yes, O wise one, you are correct. Of all the troubling things that hit the pop culture world this year, not having a new Marvel movie was certainly difficult. 

REVENUE FOR AVOD'S LIKE TUBI LIKELY TO SOON SURPASS BROADCAST TV
When Fox acquired Tubi for $440 million in March 2020, there was a certain amount of surprise from industry analysts who hadn't been paying attention to free, ad-supported streaming services. But if you want to know Fox made that move, simply listen to Fox Corporation CFO Steve Tomsic, who said last week that the company expects the revenues of its ad-supported streaming service Tubi to surpass those of its broadcast networks in the next two to three years:

As of September 2020, Tubi reported 33 million active users, a 65% increase year over year (YoY). And while Fox Corporation does not yet break out Tubi revenues in its earnings, other firms have noted that free, ad-supported streaming services, including Tubi, have made significant ad revenue gains this year.
For example, MoffettNathanson said in August that ad revenues across the five major ad-supported streaming platforms—Roku, Hulu, Peacock, Pluto TV, and Tubi—jumped 31% YoY in Q2 2020 to $849 million. And according to Morning Consult, Tubi is one of the fastest-growing brands in 2020 (along with Pluto and Peacock), defined by the growth in share of consumers who expressed an interest in the brand over the course of a year.

A BIT OF HOUSEKEEPING
I'll remind everyone again next week, but just wanted to give everyone the heads-up that - barring some huge piece of media news - this newsletter will be taking an extended holiday break. The last daily newsletter of the year will be on Wednesday, December 23rd and it will resume on Monday, January 4th, 2021. There isn't likely to be much in the way of news, especially since just about every publicist in the industry will be gone. Plus, I could use a bit of a break after the craziness of the past few months. I'm going to send out a special newsletter on Monday, December 28th that will have premiere listings for the entire week. And I'll still be posting a bit on the the web site. But I plan to spend some time with my family & I'll maybe even sleep in a day or two.

ODDS AND SODS
The HBO Max app is available beginning today on Xfinity X1 and Flex. [press release]
Live streaming TV service Vidgo is offering its service for $10/month for the first two months. It's $55 a month after that, which isn't a great deal, considering its missing the broadcast network feeds of CBS, NBC & The CW as well as all of the NBCU cable networks.

RECOMENDED READING
Discovery Won't Limit Number of Discovery+ Marketers For New Streamer (Ad Week)
Unlike NBCUniversal's rival streamer Peacock, Discovery isn't limiting the number of brands that can participate in the launch of its new platform.

2021 Ad-Supported TV Growth To Remain Strong, Become Fragmented (NScreenMedia)
2021 will bring continued strong growth for free ad-supported TV. But branded apps (Pluto TV, Xumo) will suffer as devices push their own.

Study Reveals SVoD Viewing Shift (Broadcast Now)
A University of Huddersfield's Covid-TV: Routes to Content During Covid-19 qualitative paper found the majority of participants "turning to VoD as part of their habitual TV viewing", with older people "far more likely to have discovered SVoD services during lockdown" and more accessing YouTube.

Comcast Says It Reaches Hearst TV Retrans Deal (NextTV)
Agreement includes out-of-market stations previously expected to be dropped.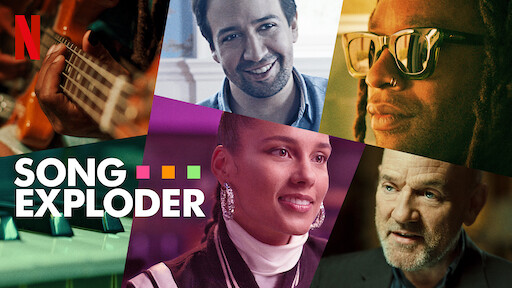 WHAT'S ON TODAY:
Here is a rundown of the new television programs premiering today:
1) Cooking Christmas (OWN)
Meagan Holder ("Pitch") stars in this family-centric holiday story as Chloe, an Atlanta-based chef at a fine dining restaurant who gets fired just weeks before Christmas and reluctantly takes a job with pro baseball player Donovan Jackson (OWN's "Greenleaf" star Lamman Rucker), who is a single dad of three needing a live-in-chef to get him through the holidays with the kids. Chloe only takes the job in order to save up enough capital to live out her dream of opening her own restaurant, but soon finds herself caught up in the ups and downs of the Jacksons encounter during her residency. Throughout the holiday season in the Jackson household the importance of family and Chloe's good Southern cooking are two constants that remain. As Christmas comes to an end, Chloe discovers that her lifelong dream might finally come true... and that her heart has a mind of its own.

2) Play On: Celebrating The Power Of Music To Make Change (CBS)
This memorable concert special will feature three stellar music lineups spanning genres from country and rock to hip hop and jazz/funk, with exciting artists just added to the performance lineups in New York City and Los Angeles. LL Cool J featuring DJ Z-Trip will now take over the hip hop portion of the lineup in what will be a magnetic performance at the famed Troubadour in Los Angeles. Also, additional artists at Apollo Theater in New York include Sara Bareilles, Emily King, Pedrito Martinez and Steve Jordan for a powerful and moving collaboration.

3) Song Exploder Volume 2 Premiere (Netflix)
Based on the acclaimed podcast of the same name, and from host Hrishikesh Hirway and Oscar-winning filmmaker Morgan Neville, each episode of Song Exploder features some of the world's greatest musicians as they reveal how they brought one of their songs to life. The series weaves together in-depth interviews, archival footage, and raw recordings as each artist breaks down their song, layer by layer, sharing intimate insight into the personal inspiration behind the music and lyrics.

4) The Voice Season Nineteen Finale (NBC)
Another winner will be announced tonight and I'm sure they'll be as successful as last year's winner......(frantically searching Google for the name).

5) 30 For 30: The Infinite Race (ESPN)
The documentary explores the story of the Tarahumara, an indigenous community in Mexico, famed for their legendary running ability, and their preference for running barefoot, who inspired an ultrarunning craze across the world, and what's happened as their homes and communities were ravaged by drug cartels and violence.

6) Walking With Elephants (Animal Planet)
Each year, thousands of elephants make an incredible journey to the Okavango Delta in Botswana to feed on its lush vegetation, in one of the biggest natural events on the entire planet.

This newsletter is called "Too Much TV" because....well, it's hard to keep track of all the new television premiering everyday. To help you prioritize your viewing, click here to see our list of more than 400 upcoming television premieres, movies and finales. You'll find listings from more than 70 networks, as well as streaming services and web shows.

If you'd like to get this daily feature as an email, subscribe to our free daily "Too Much TV" newsletter here.

I'll be back with another one tomorrow. If you have any feedback, send it along to This email address is being protected from spambots. You need JavaScript enabled to view it. and follow me on Twitter @aysrick.