Here's everything you need to know about the world of television for Wednesday, November 25th, 2020. I'm writing this from the Twin Cities suburbs, where AllYourScreens HQ is powered by almonds and a strawberry soda.

Just a reminder that I am taking a long weekend to celebrate Thanksgiving and recharge my batteries. I'll be back with a new daily newsletter on Monday, November 30th.

And speaking of Thanksgiving, a sincere thank you to all of you who have subscribed to this newsletter and/or visited the web site. I appreciate the support.

NETFLIX TESTING TOP 50 LIST
Saqib Shah from S&P Global Market Intelligence has spotted a Netflix test of a Top 50 list. He spotted it on a PS4 in the UK, but didn't see it on the web. A Netlflix spokesperson confirmed the test, telling him that "As we have seen with the Top 10, members like to know what's popular when picking what to watch. We're testing if showing an expanded list of popular titles around the globe will be helpful. As with all our tests, we will only roll [it] out if members find it useful."

Shah said there was an overall Top 50 list on the front page, as well as Top 50 TV and Movie lists in those individual sections.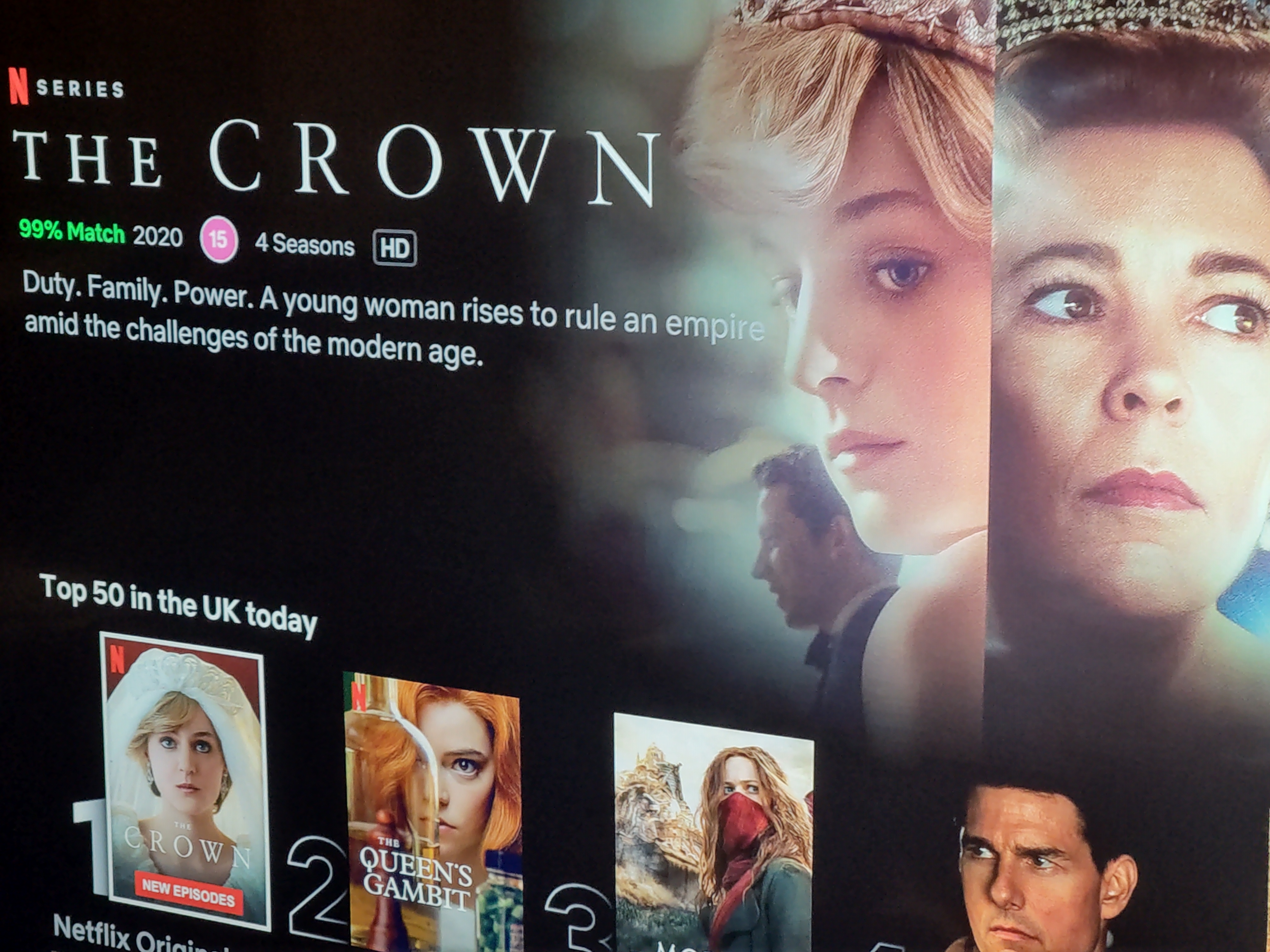 NETFLIX ORIGINAL MOVIE RATINGS:  THE DIVIDE BETWEEN THE NUMBERS AND ACTUAL VALUE.
Brandon Katz from The Observer has an interesting look at Netflix original movies and whether they're cost is really worth it once you figure out some probable viewership and impact in the market:

In 2018, Netflix original movie head Scott Stuber teased a "cinematic onslaught" from the company complete with 90 original films per year ranging from $20 million indies to $200 million blockbusters. Last year, the company released 72 original features; 2020 will see more than 120 original films released when all is said and done. Clearly, the streamer has made original movies a top priority, which coincides with an explosion in the company's annual content budget. (A January forecast from BMO Capital Markets projected that Netflix will spend $26 billion per year on content by 2028, or more than the annual GDPs of countries like Iceland, El Salvador, Senegal and many more.)

Yet original films that premiere on Netflix generate the majority of viewership within the first week or weekend. In fact, Netflix original films rarely maintain a tangible top-tier grip on consumers beyond two weeks, which refutes Sarandos's claim that they have the same cultural impact as a $1 billion blockbuster. The Entertainment Strategy Guy, using Nielsen data from March 30th to October 18th that measures viewing time, revealed a significant decay rate for Netflix original films. As seen below, there are steep drop offs in hours watched from Week 1 to Week3.

The piece sparked a long Twitter thread of back-and-forth that touched on everything from the future of Bright 2 to whether "cultural impact" is a metric we should worry about. Check out the entire thread here.

PEACOCK'S BLACK FRIDAY DEAL
I mentioned Hulu Basic's Black Friday deal yesterday and today I wanted to pass along one from Peacock. For a limited time, you can get a full year of Peacock Premium for just $39.99 (normally $50) or Peacock Premium Plus (ad-free) for just $89.99 (normally $100). Visit this page to get the special 20% off discount deal.




WHAT'S ON TODAY:
Here is a rundown of the paltry number of new television programs premiering today:
1) Folklore: The Long Pond Studio Sessions (Disney+)
Taylor Swift and a few friends sing every track from her new album and talk about how the songs came together.

2) Good Morning Christmas (Hallmark)
Two competing TV hosts are sent to a festive small town over Christmas. While pretending to get along for the sake of appearances, they discover that there's more to each other than they thought.

3) Great Pretender Season Two Premiere (Netflix)
After their string of successful cons, Makoto leaves Laurent's team. But the web of deceit binding them together goes farther back than he knows.

4) Happiest Season (Hulu)
This new holiday movie is a holiday romantic comedy that hilariously captures the range of emotions tied to wanting your family's acceptance, being true to yourself, and trying not to ruin Christmas.

5) Nature: Santa's Wild Home (PBS)
In this new documentary, get an intimate look at the wildlife of Lapland, a region in northern Finland. It's the fabled home of Santa Claus and actual home of reindeer, great gray owls, wolverines, eagles, wolves, musk oxen, brown bears and more.

6) Nova: Saving Notre Dame (PBS)
The film explores the intricacies of Notre Dame's architecture and the medieval craftsmanship that created the iconic structure. One year after a powerful fire ravaged its timber and lead roof, the structure is still perilously close to a collapse. The special gives viewers an inside look at the fire itself and the incredible effort to stabilize the teetering walls. Once they're secured, a restoration project begins: Teams prepare to rebuild the oak roof and fallen spire and save the centuries-old stained glass, all while preventing rain from pouring in through gaping holes in the limestone vaulting—and working amid the toxic lead contaminating the site and 550 tons of melted scaffolding threatening to collapse at any moment. NOVA joins scientists as they determine their reconstruction plans and whether the key to a successful restoration lies within the structure of the cathedral itself.

7) Saved By The Bell Revival Series Premiere (Peacock)
When California governor Zack Morris gets into hot water for closing too many underfunded high schools, he proposes they send the affected students to the most well-funded schools in the state – including Bayside High. The influx of new students gives the privileged Bayside kids (who never have a problem that can't be solved in twenty-two minutes) a much-needed dose of reality.

8) The Mystery Of D.B. Cooper (HBO)
Directed by John Dower, this documentary brings to life the stories of four people believed by their family and friends to be "DB Cooper" a man who hijacked a 727 flying out of Seattle and jumped from the plane over the wilds of Washington State with a parachute and $200,000, never to be heard from again.

9) The Christmas Chronicles 2 (Netflix)
It's been two years since siblings Kate (Darby Camp) and Teddy Pierce (Judah Lewis) saved Christmas, and a lot has changed. Kate, now a cynical teenager, is reluctantly spending Christmas in Cancun with her mom's new boyfriend and his son Jack (Jahzir Bruno). Unwilling to accept this new version of her family, Kate decides to run away. But when a mysterious, magical troublemaker named Belsnickel threatens to destroy the North Pole and end Christmas for good, Kate and Jack are unexpectedly pulled into a new adventure with Santa Claus (Kurt Russell).

This newsletter is called "Too Much TV" because....well, it's hard to keep track of all the new television premiering everyday. To help you prioritize your viewing, click here to see our list of more than 400 upcoming television premieres, movies and finales. You'll find listings from more than 70 networks, as well as streaming services and web shows.

If you'd like to get this daily feature as an email, subscribe to our free daily "Too Much TV" newsletter here.

I'll be back with another one tomorrow. If you have any feedback, send it along to This email address is being protected from spambots. You need JavaScript enabled to view it. and follow me on Twitter @aysrick.