Here's everything you need to know about the world of television for Tuesday, November 24th, 2020. I'm writing this from the Twin Cities suburbs, where AllYourScreens HQ is powered by leftover chili and lukewarm coffee.

Today's newsletter is a short one. I am buried in other television-related duties, including interviews and writing four reviews by the close of business today. Back to normal tomorrow.

THE TREND IN JOURNALISM THAT IS ONLY NEW IF YOU MOSTLY FOLLOW THE BIG MEDIA STARS
This is bit off-topic from television and the media, but it is a perfect distillation of what is wrong with national journalism generally. Whether we are talking politics, the media or trends in journalism, news only seems to matter if it is happening to someone who has a well-known national platform and/or name recognition. Something can be taking place across the country, but until it affects someone whom the national news gatekeepers recognize, it might as well be taking place in Mongolia.

Take, for instance, the recent explosion in stories about journalism driven by news that a number of nationally recognized writers are leaving their traditional digital media jobs to write a column for Substack and/or launch their own website. And because it involves familiar media names, major news outlets treat it as a recent development that has seemingly come out of nowhere:

That is fine with Andrew Sullivan, who joined Substack in the summer after years at New York magazine, where his contrarian essays led to criticism from its liberal readers and a tense relationship with its editors. "There's something wonderful about writing just for readers," he said. "Because your people are there, you have to be accountable, but it's a very pure relationship. It reminds me of the wonderful old days of the blogosphere."
Edith Zimmerman, a former editor of The Hairpin, whose Substack newsletter, Drawing Links, features slice-of-life comics, also noted the similarity between Substack writers and bloggers of yore. "They seemed to be having fun in a way I hadn't seen in a while," she said. "People were creating these spaces for themselves to be goofy and a little protected from the turbulence of just throwing yourself at the entire internet."

To be honest, if your last experience with reading journalists having fun is the "golden age of blogging" (a mystical time that seems to have ended once today's media stars stopped doing it), then you're just not reading enough journalists outside the NYC/DC/LA axis. Journalists like myself have been slogging away in the hinterlands and the national press could care less. But when a couple writers from Vulture or Slate decide to launch their own newsletter, it spawns vast think pieces about the "creative economy" and how journalism is now moving to a more personality-centric model.

I don't begrudge any of those journalists their success or media fame. But it does drive me nuts that there are plenty of journalists like myself, working outside the media spotlight and as far as the national press is concerned, we mostly don't exist. Many of us have substantial audiences and have influence inside out industry. But when it comes to press coverage of our efforts, we are mostly invisible.

Now back to our regular programming.

AT THIS POINT, THEY ARE ALMOST GIVING AWAY BASIC HULU SERVICE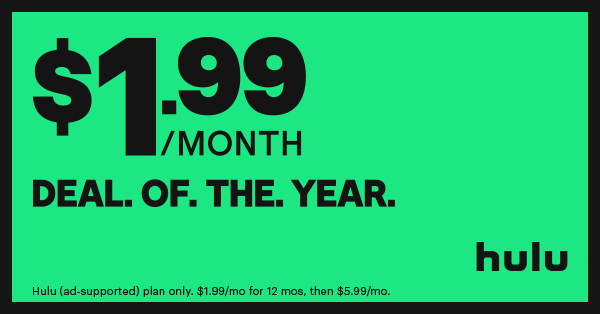 Beginning at midnight on Thanksgiving Day (11/26), new and eligible returning subscribers can sign-up for Hulu's ad-supported plan for just $2 per month for one year. The offer is good through 11:59 PM PT on Cyber Monday.

COMPLAINT FILED AGAINST NETFLIX IN INDIA OVER 'A SUITABLE BOY
An FIR (first information report) has been filed in India against Netflix over allegations that the BBC adaptation of Vikram Seth's A Suitable Boy has "hurt religious sentiments." The FIR was filed today by a BJP youth leader, who claimed a scene promoted "love jihad" - a right-wing conspiracy theory about relationships between Muslim men and Hindu women:

Gaurav Tiwari, the National Secretary of the Bharatiya Janata Yuva Morcha (BJYM), has demanded an apology and the removal of "objectionable scenes" that "encourage love jihad".

"Kissing scenes (filmed) inside a temple of Lord Maheshwar (a historic town located on the banks of Narmada) have hurt sentiments of Hindus. This is also encouraging 'love jihad'," Mr Tiwari said.

The complaint names Netflix Vice President of Content Monika Shergill and Netflix Director of Public Policies Ambika Khurana.


WHAT'S ON TODAY:
Here is a rundown of the paltry number of new television programs premiering today:
1) A Christmas Tree Grows In Colorado (Hallmark)
Erin is planning the town's Christmas celebration and must win over firefighter Kevin in order to obtain the beautiful spruce tree on his property for the celebration.

2) Dallas Cowboys Cheerleaders: Making the Team (CMT)
They're dancers. They want to make the team.

3) Dragons: Rescue Riders: Huttsgalor Holiday (Netflix)
Huttsgalor's favorite winter festival is finally here! But will some ice-breathing dragons put a frost on everyone's fun.

4) Hillbilly Elegy (Netflix)
Based on the bestselling memoir by J.D. Vance, this is a modern exploration of the American Dream and three generations of an Appalachian family as told by its youngest member, a Yale Law student forced to return to his hometown.

5) Jennifer Aniston: More Than Friends (Reelz)
She's an award winning sitcom star, movie star, producer and philanthropist. There are many levels to global superstar actress Jennifer Aniston who became a fan favorite on the 10-season hit TV series Friends before transitioning her career to star in successful movies and returning to TV on a popular streaming service. But the road to success did not come without challenges. Learn about her four failed TV series that preceded Friends. Explore her inner struggle to find lasting love with facing very public divorces from Brad Pitt and Justin Theroux.

6) Moonshiners Season Premiere (Discovery)
How do moonshiners deal with a pandemic. Apparently by making more moonshine.

7) Notes For My Son (Netflix)
Facing a terminal disease, a mother decides to use her unwavering optimism and sarcastic humor to make sure her 4-year-old son remembers her.

8) The Informer Series Premiere (MHz Choice)
Berlin law student Aylin (Aylin Tezel) knows exactly what she wants: to become a lawyer. To finance her studies, she works as an escort. Because she had to defend herself against an intrusive businessman, she now faces five years in prison. Immediately after her sentencing, Special Agent Jan (Ken Duken) walks up to make an offer

9) Wonderoos (Netflix)
An adventurous and lovable team of young animals from all over the world play, laugh, sing and learn together to solve relatable preschool firsts.

This newsletter is called "Too Much TV" because....well, it's hard to keep track of all the new television premiering everyday. To help you prioritize your viewing, click here to see our list of more than 400 upcoming television premieres, movies and finales. You'll find listings from more than 70 networks, as well as streaming services and web shows.

If you'd like to get this daily feature as an email, subscribe to our free daily "Too Much TV" newsletter here.

I'll be back with another one tomorrow. If you have any feedback, send it along to This email address is being protected from spambots. You need JavaScript enabled to view it. and follow me on Twitter @aysrick.