Here's everything you need to know about the world of television for Thursday, October 8th, 2020. I'm writing this from the Twin Cities suburbs, where AllYourScreens HQ is powered by McDonald's coffee & banana bread.

TOLDJA!
Back in the dinosaur days, entertainment journalist Nikki Finke was well-known for her triumphant use of the word TOLDJA when some story she published turned out to be later verified by other outlets. It's tempting to do that when you're a journalist ad/or analyst. It feels good to put something out there and have the world decide you're right.

I did have a bit of my own TOLDJA! moment this morning when I saw this piece in the Hollywood Reporter that featured a report from MoffettNathanson's Robert Fishman, in which he argues that cinemas struggling to find new films should strike deals with the various streaming services:

"Theater owners should consider finally striking a deal with Netflix, Amazon and other SVOD services as a lifeline to get more product on movie screens," MoffettNathanson's Robert Fishman wrote in a report.

"To no one's surprise," he decided to cut his box office projections "given a high level of uncertainty around the future of the domestic box office and when we should expect to see a return to a new normal level of attendance," he explained. "2020 unfortunately now looks like a year where the domestic box office is set to plummet 81 percent from 2019 down to $2.1 billion."

I've written about this idea several times in recent months, both in this newsletter and on the web site. I still think it's a great idea and I think there is an audience for people who would like to see Extraction or Rim Of The World on the big screen. But having looked into the idea, it is a bit more complicated an issue that you might expect. There seem to be all sorts of variations of deals when a motion picture is acquired and/or produced for a streamer. Some of the deals have carve-outs for a limited theatrical run. But in many cases, contracts would have to be renegotiated before a film could have a wide-release theatrical run. For instance, my understanding is that Sandra Bullock took less money for Bird Box than she would normally make on a theatrical film because she knew it would be going to Netflix and she saw it as a good opportunity to reach a different audience. Much of that reduced amount was due to her forgoing payments based on box office performance, etc. Netflix would have to go back an renegotiate that in order to release the movie theatrically and while I'm sure it could be done, it's not clear to me that it would be worth their time to do so.

That being said, there are maybe a dozen Netflix films that could easily be rolled into a theatrical release schedule and it would be interesting to see that happen. I'm sure there are similar Amazon films that could be released the same way, although I am less familiar with those contracts.

ADVENTURES IN CHASING AN AUDIENCE
Last night the entertainment industry trade publication Deadline accidentally posted a draft article that claimed Vice President Mike Pence had tested positive for COVID-19. I'm not going to dunk on a site for making a big, embarrassing mistake. I've had my share of boneheaded mistakes and they can happen no matter how hard you try. But why is a site that is supposed to be laser-focused on the entertainment industry cranking out political stories?

I wrote a piece about the issue last night and the private reaction I've gotten from some of my fellow TV journalist colleagues has been...well, let's just say heated:

My problem isn't with the mistake, it's with the story itself and the reasons why Deadline was doing an early draft of such an important political story. No matter what you think about their coverage, Deadline is one of the leading trade publications in the entertainment industry. But they don't have any particular expertise in political coverage. They don't have sources in the inner circles of politics, they don't have any real reporting experience covering complex political issues.

And that's clear when you read the body of the now-deleted post. Written by Deadline Deputy Managing Editor Tom Tapp, the piece is a solid mix of aggregated info and familiar backstory. It's well-written, but there isn't one word in the story that you couldn't find in a hundred other publications. There is absolutely no journalistic reason for this piece to exist, or for a draft piece waiting patiently to be posted if Pence does turn out to test positive for COVID-19. The only reason to have a piece about Pence's test status ready to post with the addition of a few links and quotes is that Deadline hoped to get their piece out quick enough to brag a healthy percentage of readers looking for some breaking news. Even if the site doesn't have anything original to contribute to the conversation.

ROKU CHANNEL LAUNCHES ON AMAZON DEVICES
The Roku Channel has launched on Amazon Fire TV devices. The app won't require an account login and like the Roku App that recently launched on Android devices, it includes more than 100,000 free, ad-supported movies and TV episodes as well as 115 live/linear channels.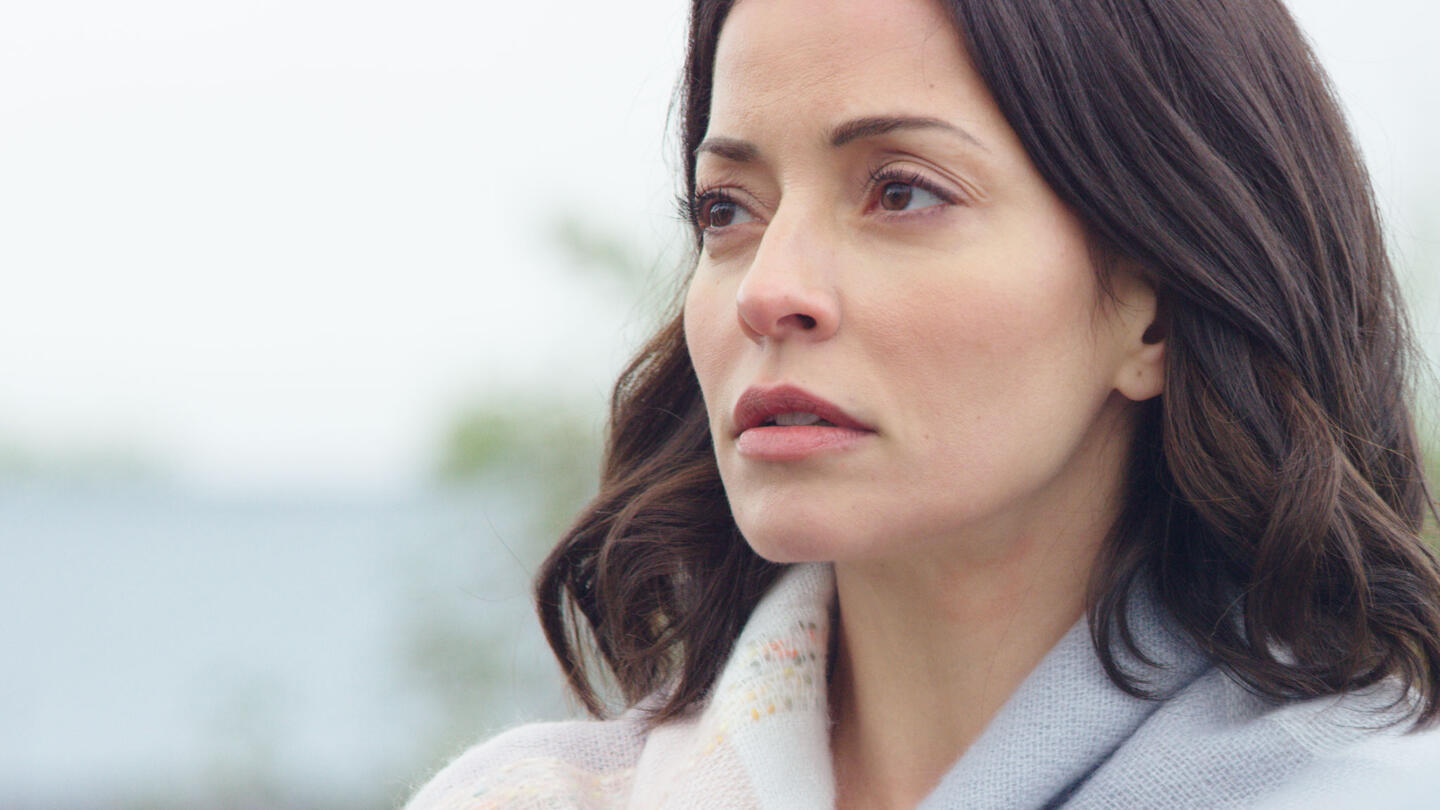 Here is a rundown of the new television programs premiering today:
1) Betrayed By My Husband (LMN)
Gabrielle is devastated by the loss of her husband Parker when he dies on a kayaking trip. She tries to move on with her life and support her young daughter, but on a business trip she believes she sees her husband alive and well. Her brother-in-law, Carson, is later found murdered and she is accused of killing him. Gabrielle decides to launch her own investigation and soon learns that her husband is certainly alive and is conspiring with his brother's widow to fake his own death and disappear with the life insurance money. She must now race to prove her own innocence and unravel the plot before it claims her as another victim.

2) Chasing the Crown: Dreamers To Streamers (Amazon)
Three Twitch streamers have their sights set on becoming the next big name in gaming. They'll compete in a series of challenges to secure a spot in Prime Gaming's Twitch tournament: the Crown Cup.

3) Deaf U Series Premiere (Netflix)
In this docuseries, a tight-knit group of deaf students share their stories and explore the perks and pitfalls of life at Gallaudet University.

4) Fast & Furious: Spy Racers Series Premiere (Netflix)
When one of their own goes missing, the Spy Racers must leave LA and head to Brazil to take down a crime organization in Rio.

5) Ginny Weds Sunny (Netflix)
Eager to marry but constantly rejected by women, a bachelor hopes to win over a former crush by accepting help from an unlikely source: his mother.

6) Love After Lockup Mid-Season Premiere (WEtv)
Scott's accusations throw Lindsey into a tailspin. Shawn impatiently waits for Destinie, and Jessica's dad puts Maurice to the test. Dylan faces the music with his parole officer. John receives a troubling phone call that changes everything. 

7) PBS Kids Talk About: Race And Racism (PBS)
Hosted by Amanda Gorman, the writer, activist and first-ever Youth Poet Laureate of the U.S., features candid and authentic conversations between kids and their parents about race and racial justice-related topics in an age-appropriate way and offers viewers ideas to build on as they continue these important conversations at home.

8) Raven's Home Mid-Season Premiere (Disney)
Now that they are high school students, Booker and Nia feel they are too old for trick-or-treating. They instead convince Levi, Tess and Ramon to join them for a night of real scares and fun in 4B, the apartment that is suspected to be haunted. Meanwhile, Raven and Chelsea stir up their own batch of holiday antics when they throw a Halloween party for the younger neighborhood kids.

9) Shayla Rivera: Its Not Rocket Science (HBO Max)
A featured comedian in HBO Latino's "Entre Nos, Part 2," the hilarious Shayla Rivera hits the stage once more – this time for a comedy special of her own. A former rocket scientist, Rivera talks about being Puerto Rican in Texas, the challenges of motherhood, dating non-Latinos, and much more in this uninhibited half hour of comedy.

10) Super Monsters: Dia de los Monsters (Netflix)
Super Monsters visit Vida's home town for a Dia De Los Muertos parade where they meet some new Super Monsters.

11) The Forty-Year-Old Version (Netflix)
Desperate for a breakthrough as she turns 40, down-on-her-luck New York playwright Radha reinvents herself as a rapper and searches for her true voice.

12) The Haunting Of Bly Manor Series Premiere (Netflix)
After an au pair's tragic death, Henry Wingrave (Henry Thomas) hires a young American nanny (Victoria Pedretti) to care for his orphaned niece and nephew (Amelie Bea Smith, Benjamin Evan Ainsworth) who reside at Bly Manor with the estate's chef Owen (Rahul Kohli), groundskeeper Jamie (Amelia Eve) and housekeeper, Mrs. Grose (T'Nia Miller). But all is not as it seems at the manor, and centuries of dark secrets of love and loss are waiting to be unearthed in this chilling gothic romance. At Bly Manor, dead doesn't mean gone.

13) The Hispanic Heritage Awards (PBS)
The Hispanic Heritage Awards will honor individuals or organizations doing outstanding work in a variety of fields to benefit the Hispanic and Latinx community in the United States and abroad. The evening will focus on biographical documentary shorts on each honoree to hear about their achievements and work in their own words, as well as include musical performances from prominent Hispanic and Latinx artists.

14) The Right Stuff Series Premiere (Disney+)
The eight-episode, scripted series takes a clear-eyed look at what would become America's first "reality show," as ambitious astronauts and their families become instant celebrities in a competition that could kill them or make them immortal. The two men at the center of the story are Major John Glenn, a revered test pilot and committed family man with unwavering principles, portrayed by Patrick J. Adams, and Lieutenant Commander Alan Shepard, one of the best test pilots in Navy history, portrayed by Jake McDorman. 

15) To Live Or Die On Everest (Discovery)
A documentary about the 2019 climbing season on Everest, which led to 11 deaths.

This newsletter is called "Too Much TV" because....well, it's hard to keep track of all the new television premiering everyday. To help you prioritize your viewing, click here to see our list of more than 400 upcoming television premieres, movies and finales. You'll find listings from more than 70 networks, as well as streaming services and web shows.

If you'd like to get this daily feature as an email, subscribe to our free daily "Too Much TV" newsletter here.

I'll be back with another one tomorrow. If you have any feedback, send it along to This email address is being protected from spambots. You need JavaScript enabled to view it. and follow me on Twitter @aysrick.