Here's everything you need to know about the world of television for Thursday, August 27th, 2020. I'm writing this from the Twin Cities suburbs, where AllYourScreens HQ is powered by coffee and the aftermath of a fairly awkward Zoom interview, which included my teen son coming into the room to tell me the toilet was overflowing.

YOUTUBE BOSS TALKS ABOUT AVOD RATIONALE
Broadcast has an interview with YouTube Originals head Suzanne Daniels, in which she explains a bit about the service's current approach to original programming and whether or not to put it behind a paywall

"After three years, it didn't feel like the right strategy to put all the original programming behind a paywall," she said. 

"So we came up with a dual strategy. The original programmes are available to everyone for free with ads on YouTube, but in addition they're behind a paywall, ad-free and ready to binge at any time, and often with ancillary content."

She added that that the "pressure point of the tremendous advertising interest" was another precipitating factor for the strategy shift, with advertisers demanding at its 'Brandcast' upfront event, "why can't we have access" to YouTube's slate of originals.

Speaking to Broadcast ahead of her keynote conversation at the Edinburgh TV Festival, Daniels said YouTube's unscripted slate revolves around "kid's and family, learning and education, music and 'personalities'.

THIS IS SOME STRONG BRANDING
No matter what you think of the underlying sentiment, this image from the NBA Player's Association is some impressive branding.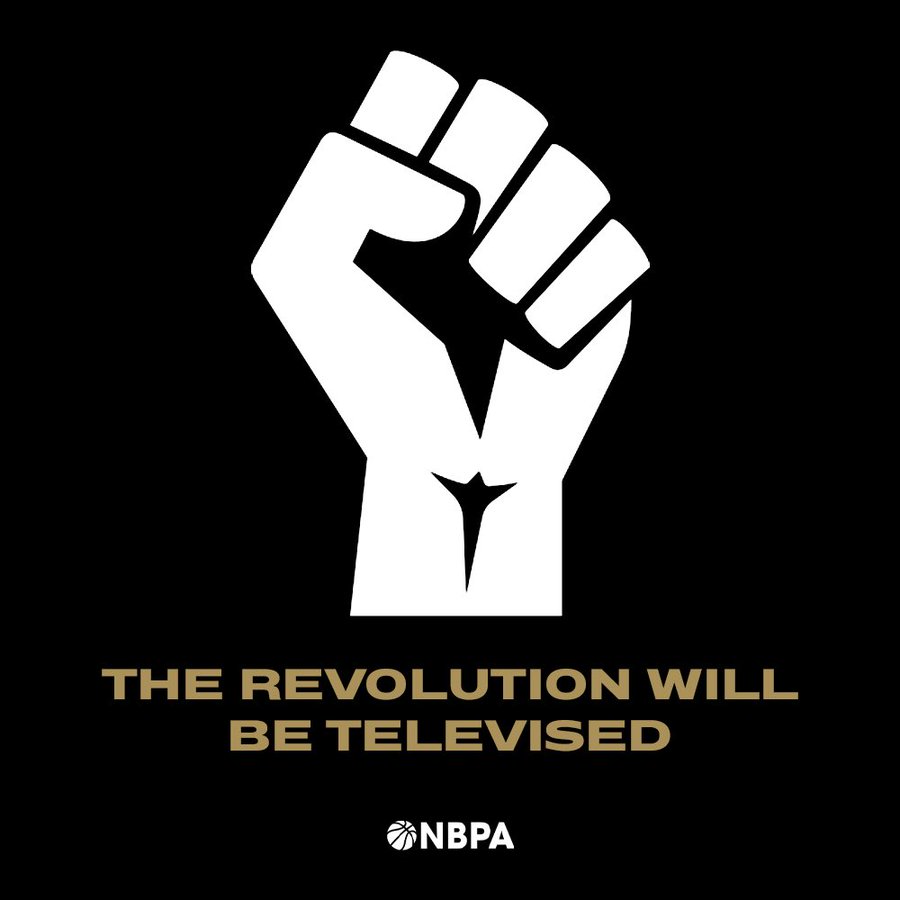 A NICE USE OF TIKTOK
I spent a bit of time yesterday discussing the ways in which networks should be using TikTok. Someone who is using it in interesting ways is Dan Povenmire, the co-creator of Phineas and Ferb. There is a new P&F special premiering tomorrow on Disney+ and he's been promoting it in all sorts of ways. Including this idea, in which he asked fans for things they would like one of the show's characters to say and he then posted a video a day using their ideas. The character is the show's awesomely dense evil scientist "Dr. Doofenschmirtz," which Povenmire also voices in the show.

BORIS JOHNSON WAS BEING TROLLED....BUT NOT IN THE WAY YOU THINK
I don't usually report meme-ish type things, but this is an example of the difference between re-aggregating a story and actually doing the job of a journalist and reporting out the story. A lot of big media outlets reposted the image below of British Prime Minister Boris Johnson giving a "welcome back to school" talk at a school library. Of course, it wasn't long before people noticed that the titles of the books behind him seemed to have been chosen to troll Johnson. Leading a bunch of web sites that should have known better to dash off quick "See One Librarian's Massive Troll Of Boris Johnson" pieces. 



But a reporter for the Huffington UK spent the time speaking to librarians at the school and the truth is even more bizarre:

In fact, the display has been in place – apparently unnoticed – for more than six months, and was left by the outgoing librarian as a message to the school's senior leadership team.

"It's so bizarre, I actually feel a little bit sorry for the prime minister because it wasn't ever intended for him – I did it as a message for the school management before I left in February," the 48-year-old former librarian, who asked not to be named, told HuffPost UK.

"It just became untenable to carry on working there because of the lack of support I had and I was left with no choice but to resign. 

"That's why I decided to leave them a big message during my last week. They obviously never actually noticed, and it went untouched for six months." 

FORTNITE HAS A NEW SEASON
The wildly popular game Fortnite kicked off its new season today and as I write this, my 15-year-old son is working his way through all the new features. It's a massive Marvel Universe tie-in, with the ability to play and earn popular Marvel characters and items. More tomorrow (including a link to a short piece my son is writing about the new season). But just from a branding standpoint, there are few media or gaming companies do updates and branding as well as Epic Games, the owner of Fortnite.


Here is a rundown of the new television programs premiering today:
1) Aggretsuko Season Premiere (Netflix)
Lovely pianist Gurara hits rock bottom when she meets the rough and mysterious Fritta Sunwoojun. Can Fritta bring Gurara back to life?

2) Celebrity Game Face Season Premiere (E!)
Each week, Kevin Hart invites you for a night of outrageous and unpredictable fun and games with his celebrity friends, all playing from their own homes. Watch as these couples compete to outdo each other in wacky challenges that will test their skills and their relationships. It's a classic game night that only Kevin Hart could host.

3) Pure Series Premiere (HBO Max)
Twenty-four year old Marnie has bad thoughts all the time and she can't tell anyone. Her mind is XXX-rated and intrusive thoughts are piling up inside her head. She is caught in the grip of an excruciating form of obsessive compulsive disorder – nicknamed 'pure O' – where her obsessions take the form of intrusive sexual thoughts, and the compulsions are unseen mental rituals that deeply affect her daily life. After imagining her parents engrossed in an orgy at their 25th wedding anniversary party, Marnie is at breaking point. Something. Has. Got. To. Give. She packs a bag and, with no plan, jumps on a coach to London. In the capital, Marnie soon discovers she's not the only one who's lost. 

4) Ravi Patel's Pursuit of Happiness Series Premiere (HBO Max)
A four-part buddy comedy docuseries that follows actor / documentarian / philanthropist Ravi Patel (Meet the Patels) as he travels the world seeking answers surrounding life's universal questions.  At each stop throughout this comedically heartfelt journey, Patel is joined by a friend or family member, with whom he shares a big conflict or question about life. His travels take him to Mexico, Japan, South Korea and Denmark to explore the traditional customs of the people they meet and experience their unique approaches to life's most pressing matters.

5) Through Greenland With Nikolaj Coster-Waldau Series Premiere (Topic)
The series is a visually spectacular program series with Danish Game of Thrones star Nikolaj Coster-Waldau on an adventurous expedition through Greenland.

6) Tyler Perry's Madea's Farewell Play (BET+) 
Madea, the gun-toting matriarch drives a couple of hours to a rural town in Georgia to be with her loving family. Madea's great-grandson is graduating from law school, and the entire family is gathering to celebrate the occasion. The family is in need of a happy time after Darlene has gone through a bitter divorce, leaving her financially and emotionally drained. The entire family has pitched in to help Darlene, and her son, Malik as he has barely paid his tuition bills. The graduation party is off to a joyous start until Darlene's ex-husband shows up uninvited. Sparks immediately begin to fly, as Madea in the fashion of life coach, Iyanla, begins to fix everyone's life.

TOO MUCH TV REALLY IS A THING
This newsletter is called "Too Much TV" because....well, it's hard to keep track of all the new television premiering everyday. To help you prioritize your viewing, click here to see our list of more than 400 upcoming television premieres, movies and finales. You'll find listings from more than 70 networks, as well as streaming services and web shows.

If you'd like to get this daily feature as an email, subscribe to our free daily "Too Much TV" newsletter here.

I'll be back with another one tomorrow. If you have any feedback, send it along to This email address is being protected from spambots. You need JavaScript enabled to view it. and follow me on Twitter @aysrick.